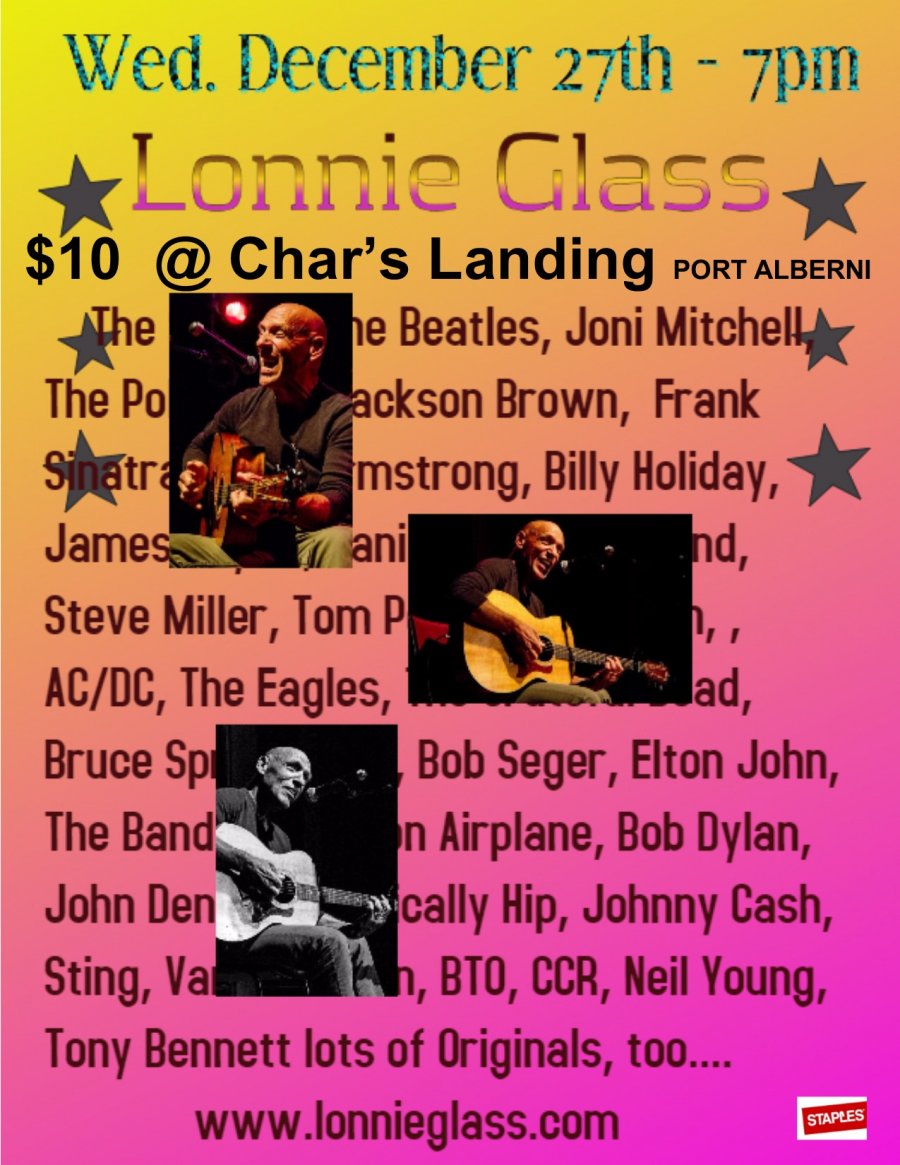 Date:
Wednesday, December 27, 2017 -
Contact:
info@charslanding.com 778-421-2427
https://www.albernivalleynews.com/entertainment/have-some-musical-fun-with-lonnie-glass/
Wed, Dec 27th, 7-9pm, Concert – Lonnie Glass – Fun Post Christmas Night with All the Standards
Somewhere between Louis Armstrong and Cookie Monster lies the voice of Lonnie Glass.
Somewhere between Leonard Cohen and Tom Waits lies the lyrical imagery of Lonnie Glass.
Somewhere between Bob Dylan and John Prine lies the storytelling of Lonnie Glass.
Born in Montreal in 1950. Saw Elvis Presley at age 7. Saw The Beatles in 1964 & '66.
R&B Frontman in the mid '60's. Saw Cream, Hendrix and Zeppelin in the late '60's.
Bass Player in late '60's up to the present.
Songwriting begins in the early '80's. Recorded his 1st CD in 1990 Distributed through MCA
Records. Has had 7 subsequent releases.
Teamed up with poet Norman Ball from Leesburg, Va. in 2003 as songwriting collaborators.
Has toured Eastern Canada 47 times, Scandinavia 5 times, the USA 8 times.
Moved to Victoria in 2011. Continues to write and perform. A consummate entertainer.
Lonnieg.reverbnation.com   https://youtu.be/QMhoMq5Sv94
Tickets $10 now @Char's from 4pm TFSS, charge by phone (778) 421-2427, online http://bpt.me/3181987
FMI http://alberni.ca/events/19224 Char's 19+ Lounge open 4pm-12midnight Thu/Fri/Sat/Sun www.charslanding.com Char's Landing, 4815 Argyle @5th. Port Alberni V9Y 1V9