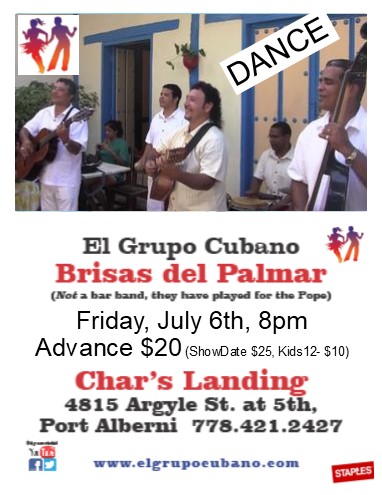 Contact:
info@charslanding.com 778-421-2427
Fri, Jul 6th, 8-10pm, Dance – El Grupo Cubano – Brisas del Palmar – direct from Santiago de Cuba
Direct from Santiago de Cuba   Played for the Pope (not just a bar band!)
Initially a trio, now a quintet, this group's rich harmonies have been enchanting crowds throughout Cuba and Latin America.  They proudly present a varied repertoire of traditional Cuban music, a capellas, romantic ballads, salsa, son, guaracha, merengue, cumbia, bachata   Canadian audiencesmay find their traditional style reminiscent of the Buena Vista Social club whose members, like Compay Segundo, also came from Santiago and played traditional Cuban music.
www.elgrupocubano.com   https://youtu.be/3G9xA-bfYCc
Renowned in Cuba as a leading group of traditional music, they have many distinctions including:  
Best new group 2002 Festival of Singers of the Americas
Second place in the 2001 Festival of Singers of the Americas,
2001-2002 Audience choice International Festival of Boleros
2003 best trio in Latin America International Festival of Boleros
2012-2014 accorded diplomatic passports to represent Cuba in  International Cultural Encounter Cuba - Honduras – El Salvador
2012 Papal tour to Cuba -  Played for the Pope
Advance $20 (Showdate $25 / Kids12- $10) now
charge by phone (778) 421-2427, cash @Rollin Art Centre, online http://bpt.me/3499192, service charges may apply
FMI http://alberni.ca/events/19000   https://www.facebook.com/events/172111313455325/
Char's Landing 19+ (accompanied kids welcome) 4815 Argyle @5th Port Alberni V9Y 1V9 Tel: 778-421-2427 www.charslanding.com