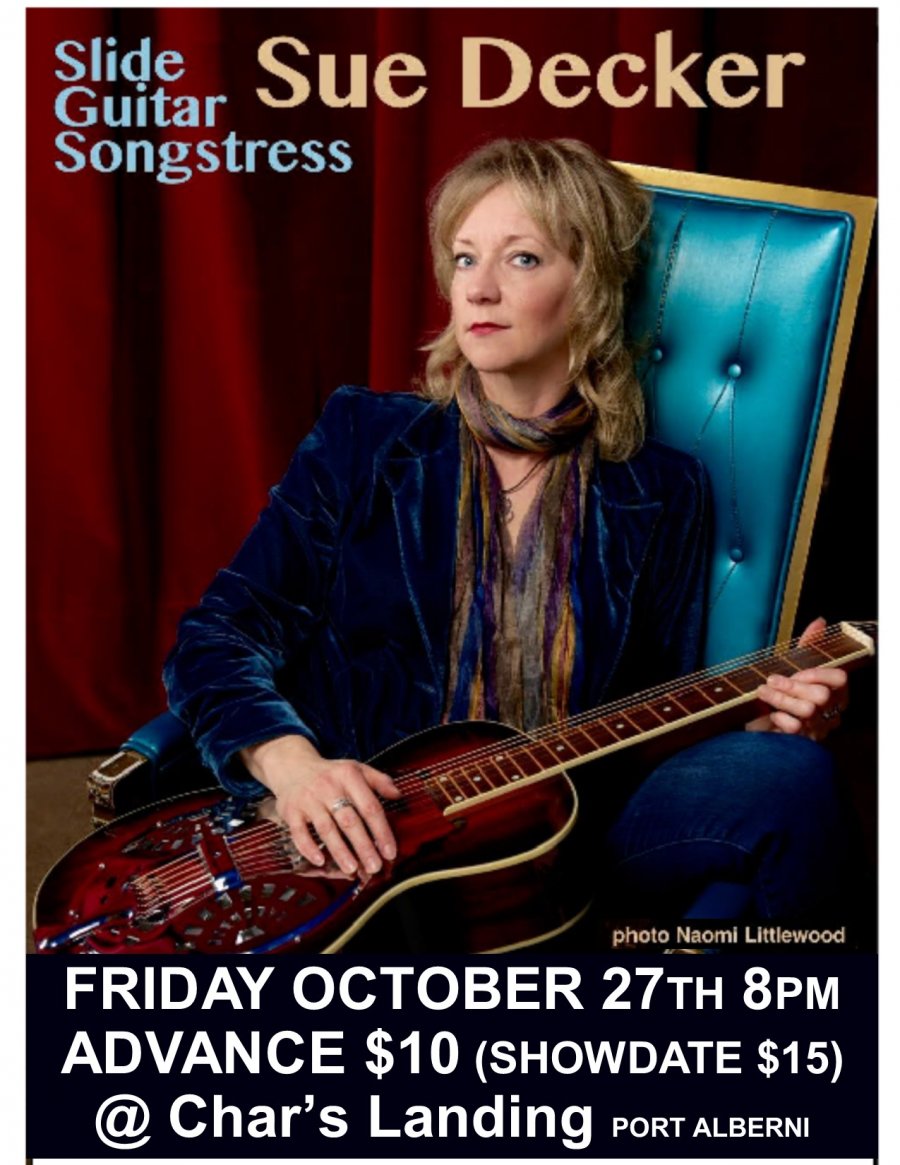 Date:
Friday, October 27, 2017 -
Contact:
info@charslanding.com 778-421-2427
http://www.albernivalleynews.com/entertainment/roots-and-blues-slide-guitar-at-chars-landing/
Fri, Oct 27th, 8-10pm, Concert – Sue Decker – slide guitar – acoustic roots & blues
Acoustic roots and blues with slide guitar a mix of originals and covers
Sue Decker's soulful voice and slide guitar hold the audience gently while travelling through territory that is beautiful and expansive, sometimes dark, and always life-giving. Her songs embody the spirit of early blues, folk, bluegrass and country music. She's come a long way since learning her first chords on a rented guitar at the Northern Bluegrass Circle jam in Edmonton. Thus began Sue's relentless pursuit of music. Or has the music been pursuing her? The chance to play dobro for the first time at a late-night festival jam, discovering a deep affinity for singing the blues, the whispers of unwritten songs—Sue has dedicated herself to developing these gifts. She's just as likely to meet her muse in Rumi's poetry or at a campground in Wyoming as she is in a Bessie Smith recording. Her down-to-earth and playful connection with the audience harnesses it all in the simple power of sharing a song. After enjoying the company of cherished musician friends on stages around Edmonton for a few years, Sue answered her muse's call to create a solo show. The west coast came calling as well and Sue now makes music from her home in Victoria, BC.
https://www.youtube.com/watch?v=obMOdcfZ2c8#t=14
Advance $10 (Showdate $15 / Senior $10 / Kids $10) now
@Char's from 4pm daily, charge by phone (778) 421-2427, online http://bpt.me/3096296
FMI http://alberni.ca/events/17094  Char's 19+ Lounge open 5:30-12midnight 365+ days a year www.charslanding.com Char's Landing, 4815 Argyle @5th. Port Alberni V9Y 1V9