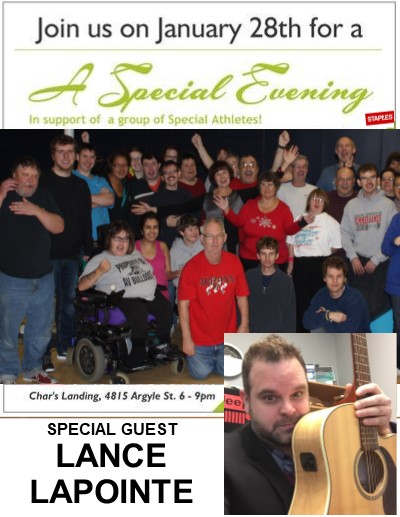 Date:
Sunday, January 28, 2018 -
Contact:
info@charslanding.com 778-421-2427
https://www.albernivalleynews.com/entertainment/chars-landing-to-host-special-olympics-fundraiser/
ShawTV https://www.youtube.com/watch?v=UbPkd_FODlo
Sun, Jan 28th, 2018, 6-9pm, Party – Special Olympics FUNdraiser
Join us for a fabulous evening of great music, great food, and great fun, all in support of Port Alberni Special Olympics!
This year's special guest... Port Alberni's OWN Lance Lapointe !
It's a Dance, it's a party, and mainly it's just a great way to support this 100% volunteer organization that makes such a difference in the quality of life of it's participants! There will be live music, delicious appetizers, and so much more. Please join us!
FMI http://alberni.ca/events/16913  
Char's 19+ Lounge open 4pm-12midnight Thu/Fri/Sat/Sun www.charslanding.com Char's Landing, 4815 Argyle @5th. Port Alberni V9Y 1V9