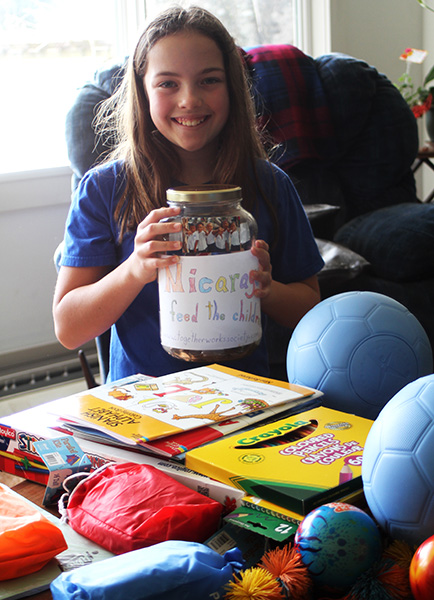 Jayden Blake is currently in Nicaragua where she is donating cash and school supplies to those in need.
At the age of 10, John Howitt Elementary School student Jayden Blake is putting what she has learned about humanitarian efforts into action. She joined the school's new Leadership Club at the beginning of the school year and has been inspired to help those in need around the world. Since January, she has been fundraising on her own for an international cause that has personal ties.
Jayden is currently in Nicaragua with about $300 in her pocket to donate to less fortunate children. On Sunday, she left with her family to spend Spring Break in the country, where her uncle, Don Montgomery, owns a surf camp. He has also established a non-profit organization called Together Works Society to help create better living conditions. Part of the organization's mandate is to give back and to help the citizens help themselves through education and self-employment.
Jayden grew up knowing about the camp and first visited the country when she was four years old. Even at that young age, she said it was an eye-opener when she visited a school and helped make lunch for the students.
"I remember the school was made out of concrete and there was no carpet, it was just dirt floor," she said.
It was through the Leadership Club that she learned about third world counties.
The Club was established this year by teacher, Tannis Seredick. By working with the program, We Schools, in partnership with Free the Children, she hopes to teach the students about the different ways people live around the world.
"I want to open the children's eyes to the experiences of other human beings," Seredick said. "In doing so, our students have realized that they are incredibly lucky to live in Canada with access to quality health care, access to quality public education, access to clean water, access to healthy food and agriculture, access to jobs in their future. It has been an incredibly rewarding experience to discuss these world issues with the students, as they have realized that they have power to make a positive change in the world, and now they are taking steps to do just that!"
"In the Leadership Club, the first thing we got to do was go to WE Day in Vancouver and heard a lot of motivating speakers," Jayden said. "We started raising money for Haiti. It is one of the poorest countries and was left in ruins after the earthquake. Since I knew I was going to Nicaragua, I thought I should raise money for that too."
Montgomery, whose original home base is in Parksville, brought Jayden a large jar which she has been filling with donations. The money will go towards some of the projects that Together Works Society, funds.
"I thought it would be great to help other people and learn about other places in the world that need help and the reasons why they do," Jayden said.
When she learned that it takes $250 to feed 300 children in the country, she set her goal for $300 in Canadian funds. The money came in through a bottle drive and by asking friends and family for donations. She also received donations of school supplies to bring.
After the earthquake hit Nicaragua in 2014, the organization built a soup kitchen to feed homeless families living at the Chinandega Garbage Dump in El Limonal. That is where Jayden's money will fund meals. Not only that, the family is volunteering this week to cook and serve at the site.
"I feel like I need to help them more," she said. "I'm lucky because I can go to the cupboard to get a snack, and I have a bed to sleep in and a roof over my head."
She said that watching some of the videos about Together Works Society has changed her perspective on how other people live.
"I realized we don't live this way and am learning about the world," she said. "The choices we make can affect other people around the world."
The Leadership Club's fundraising for Haiti will continue shortly after Spring Break. The students have been making colour-coded bracelets representing various global issues that will be available for sale. Later in the year a "We Create Change" coin drive will take place.
For more information on what Jayden's efforts will benefit, go to http://montysbeachlodge.com.