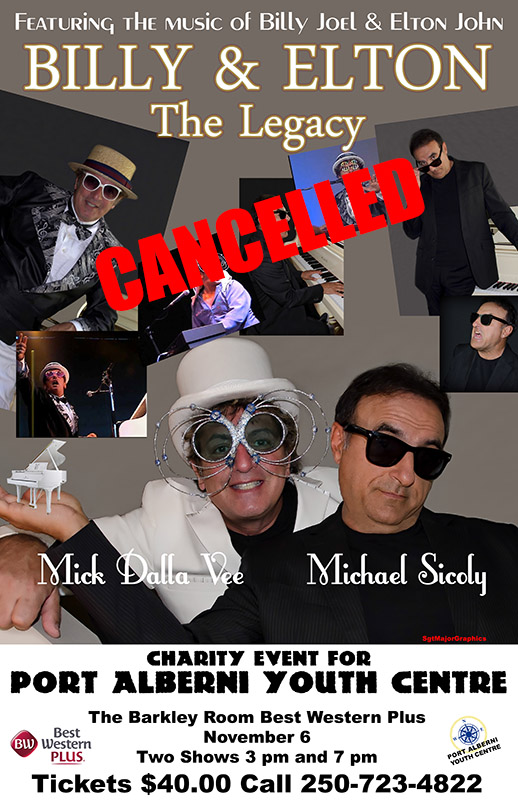 The Billy and Elton Legacy concert scheduled for Sunday has been cancelled due to lack of ticket sales.
November 4, 2016 - 8:06am
What was originally planned as a one-of-a-kind show for Port Alberni audiences has been cancelled, much to the disappointment of organizers. The Billy and Elton: The Legacy concert, scheduled for Sunday, was going to be a fundraiser for the Port Alberni Youth Centre, but lack of ticket sales forced Dennis Dalla-Vincenza to pull the plug on the show.
"I am more than disappointed," Dennis said. "It would have been a really super show."
The two musicians agreed to perform as a benefit for the Port Alberni Youth Centre, a venue that provides rental space for local non-profit and charitable organizations.
Dennis said it would have been a bit of a homecoming for the musicians.
"When Mick (Dalla Vee) turned pro at 18, his first performance as a professional was at the old Barclay Inn that burned down in the early 1980's," Dennis said. "He was looking forward to returning to the town where he played his first professional gig."
Mick is a self-taught multi-instrumentalist, singer, songwriter and producer. He learned guitar at the age of ten and is currently the front man, bassist and guitarist for the band, Cease & Desist. As a multi-award winner, he has worked with Bachman & Turner, and has performed with Randy Bachman and Melanie Fiona. He is known internationally for his work with ITV in the U.S. and in Great Britain with his company, "The NV Music Group".
Long-time friend and partner in the legacy show, Michael Sicoly also has an extensive professional career in the industry. He has provided a number of voice-overs for international companies and cartoon movies, acted in several television and movie roles, has sung the national anthems for Canadian and American professional sports and currently entertains as a solo artist worldwide.
Dennis said cancelling the show took a hit for the Youth Centre.
"It costs a lot to maintain the building," he said. "The idea was to bring in some good entertainment and use the profits from ticket sales to cut the (rental) costs for the groups using it."
He said a lot of work has to go into the building, including replacing the roof.
Advanced ticket sales were too low to risk losing money by holding the concert.
"A few tickets sold and then sales stopped," Dennis said. "People hang on to the last minute so it was scary. We would have lost money and that's the last thing I wanted to happen."
Dennis hopes to reschedule the concert for another time in the future.
"The long range plan is to have a bigger venue and include other talent to do a show for us and do something really good for Port Alberni at a good price," he said.
Anyone who purchased advanced tickets can contact Dennis at 250-723-4822 for a refund.