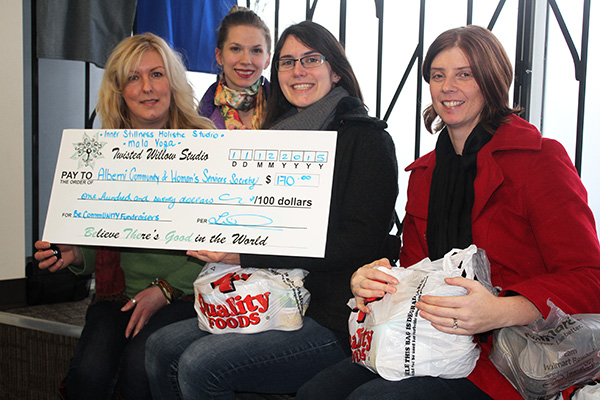 Stacie Johnston, community resource coordinator at ACAWS, accepts a cheque for $170 from Alysia Miller, Livy De Rooy and Christina Brack raised through donations at a recent yoga-by-donation workshop.
December 15, 2015 - 6:16am
For three yoga instructors, random acts of kindness and giving happens year-round. 
In January 2014, Livi De Rooy, Christina Brack and Alysia Miller launched the Be CommUNITY Workshops in order to raise funds and donations of food and clothing for several local non-profit organizations and charities.
Once a month yoga workshops are held by donation at Universal Roots Wellness and Spa. 
"They are beginner-based so it is a good place to start and support the community at the same time," said De Rooy.
The latest donation from the group was given to the Alberni Community and Women's Services Society (ACAWS). Last week the three presented a cheque for $170 plus non-perishable food items totalling 50 pounds. As three strong women, they value the importance of the work done and services provided by the organization and know the donation will be stretched. 
"ACAWS also helps other outreach programs so here they can disperse the donations to other people," De Rooy said. "We know there are so many places doing good work (in Port Alberni)."
For Brack, supporting ACAWS has personal meaning. She said she could have used a similar place in her late teens when she went from one bad relationship to another. 
"So many women either don't know where to go to for help or are too afraid or ashamed," she said. 
Brack's first experience was when she was involved in a verbal and emotionally abusive relationship. She stayed in it on and off for a year and half, thinking it would improve. 
"I thought I put myself in the situation and that it was my fault," Brack said. "I went straight to another relationship that felt safe, but we had an ugly breakup that left me shattered for a long time." 
After that, Brack said she had more confidence to recognize situations in which she was being put down or being used as an emotional punching bag. 
"It took me into my 20's to embrace that," she said. "There is still a stigma that if a woman stands up for herself she is seen as pushy or bitchy. Until one person stands up and says something or intervenes than there can be real change. It was just a really toxic place for me to be." 
Brack's coping mechanism and road to healing included having others to talk to. 
"We can't be afraid to speak up," she said. "There are people out there willing to help but don't necessarily know you need it if you don't say anything." 
Brack said women should not feel ashamed if they are in any sort of abusive relationship. 
"Every women has potential and fear of being on your own is a big issue," she said. "I realized I didn't have to rely on a man to be strong." 
Now happily married with two young girls, Brack is using her yoga instructor training to help raise awareness in the community. 
"The concept of yoga includes a philosophy of service to each other and to our community," she said. "We take the time out of our own week to use the skills and experience we have to share our practise and recognize that our own community has needs as well." 
Over the past year, some of the organizations benefitting from the workshops include the SPCA, Port Alberni Shelter, North Island Wildlife Recovery Centre and the KUU-US Crisis Line Society. 
"We usually have about eight people so we know there is so much room for growth," De Rooy said. 
Updates and information on upcoming workshops can be found on the Twisted Willow Studio Facebook page.