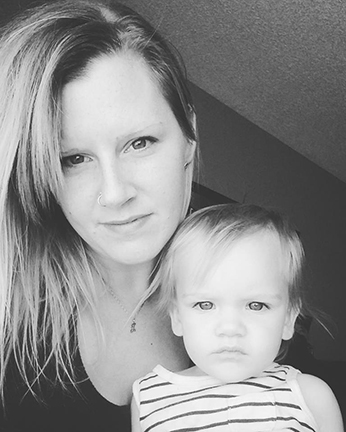 Join Jessica for yoga on Sundays in December...donations will benefit ACAWS.
December 6, 2016 - 2:31pm
You might recognize Jessica May from her former yoga studio, Live Breathe Yoga. She has been teaching in Port Alberni since 2011 until taking a break to focus on raising her family, an 18 month old girl and eight-year old boy.
That isn't to say she has abandoned yoga…far from it. In the past three years, Jessica has taught the West Coast Hockey Prep Camp yoga to players aged five to 18, as well as to the Mt. Arrowsmith Skating Club members.
"I incorporate yoga breathing (pranayama) and asanas with my children," Jessica said. "My son likes to make up his own poses and my daughter naturally started doing yoga on her own."
Jessica was trained in Hatha yoga in Vancouver by Shakti Mi, a yogi originally from Israel. Until she set up the Prana Yoga College there, Shakti travelled extensively through India to Ashrams and spent time with gurus.
"I would say it was the most influential time of my life to date," Jessica said. "I am also trained in children's yoga and prenatal and postnatal yoga."
Now she is looking to offer more classes, so for those wanting to give Hatha a try, Jessica is offering classes every Sunday in December by donation to ACAWS. They will take place at the Alberni Valley Health Network on Elizabeth Street. Hatha incorporates most yoga styles, as well as asanas (postures) and breathing. She finds the benefits of yoga have been a positive influence along her life's path. Yoga is known to increase flexibility, strengthen the body, and boost the immune system, but also relieves stress, helps with sleeplessness and reduces anxiety.
I believe I have had anxiety for a long time (undiagnosed), but lately have been diagnosed with anxiety disorder," Jessica said. "It is no wonder that when I first practiced yoga and its meditation side of the practice, I felt so amazing. Being in your head, being insecure, being unsure of yourself and unsure of your emotions can all wreak havoc on a young woman!
Yoga has given me the tools to ground myself. The physical aspect was just what drew me to the practice. I believe I found the practice for a much bigger reason."
Jessica's experience in an abusive relationship inspired her to donate the funds this holiday season to ACAWS.
"The things I went through would horrify most people," she said. "ACAWS is a center for abused women and children to receive help and advocacy to leave situations like that. Looking back now, yoga was the catalyst that gave me the strength to leave."
Jessica encourages everyone who wants more information about her upcoming plans to check out her facebook page or join her this Sunday for a class at 11:30 a.m.