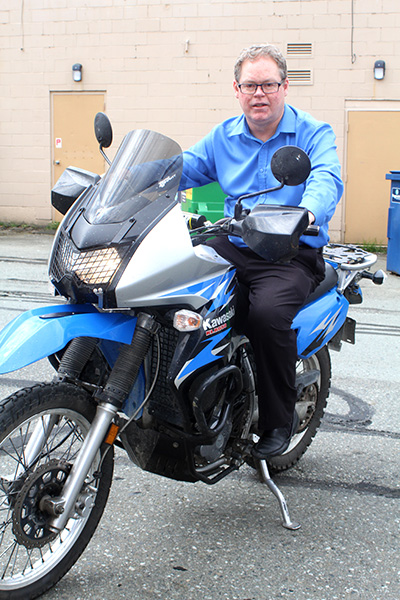 Gerald Trees enjoys his free time spent on his motorcycle and has been able to see many parts of the world from a two-wheel perspective.
Gerald Trees is most comfortable on two wheels. It is no surprise since he has been riding bikes, both motorized and pedal-powered, since he was a toddler.
Growing up in southern Oregon, Gerald was surrounded by uncles and older cousins who raced motorcycles. He learned the ropes and got his first Yamaha Mini Enduro at the age of five. By ten, he started racing BMX while continuing to ride motorcycles and still enjoys both today.
Gerald moved to southern California to become an optometrist and worked there for one year before landing a job with IRIS in Port Alberni. It was 1990 and he had still been competing in several races each year, but took some time off for work and to raise a family.
When his son showed an interest in BMX bikes at the age of 7, and started racing by ten, Gerald got back into the sport. The two travelled together and he was inspired by the success of his son, who was the Canadian national champion in 2007 in the cruiser division and 10th in the same class in the United States.
There was no BMX track on which to practice in Port Alberni, so Gerald got involved on the board of directors for the Oceanside BMX in Qualicum.
"I didn't know there was BMX on the Island but our neighbour's kids were involved and they invited my son to Nanaimo," Gerald said. "He enjoyed it so I got involved with the Qualicum track ten years ago and ran it for four years."
When his son stopped competing, Gerald, too, stepped back a little, and focused more attention to his motorcycles for fun and recreation. He still rides BMX, but his travels by motorcycle have allowed him to see the world from a "wind in the face" perspective and cover more ground.
"I traveled when I was younger and when I got back into it, I started to travel more," he said. "Then I got hooked."
Some of the places he has taken his 2008 Kawasaki KLR 650 are Utah, Arizona, Mexico and Peru. When he plans a trip, it usually involves other riders and a couple weeks of exploring.
"One of the highlights was in Peru in 2014," Gerald said. "We flew there and rented bikes and spent two weeks in the high plains. We saw the tourist spots like Machu Picchu and spent a couple days at Lake Titicaca."
In Utah and Arizona, Gerald has travelled both off-road and the main highways.
"I usually pick a direction and if it looks interesting I'll go down the road and see what it has to offer," he said. "I'll usually pick a turn-around point and do a lot of exploring in-between."
He typically does not travel with a GPS, but when he rented a bike an east coast trip, it came equipped with one. By the end of the seven days, it was on his list of things to get.
"When we got into cities, it guided us around the heavy traffic," Gerald said. "It was programmed to take us to scenic areas and we saw old covered bridges and things not printed on maps. We followed where it took us so it was a good tour guide."
Safety on the road is one of Gerald's priorities and stems from a personal experience. He was travelling alone in an inactive logging spur at Sproat Lake.
"I got to the top and took a picture that I wanted to send to my wife and realized there was no cell service, so if anything happened, the chance of being found was not very good."
To ensure safety, he always carries an In Reach communication device, makes sure he is mentally prepared for a trip, has had adequate practice on the bike and that his bike is in good mechanical condition. He also advises anyone first starting out to take a certified riding course.
About two and a half years ago, Gerald started a photo blog to share his adventures with others.
"My goal is to get more people into travelling and it's nice to go to places with people who have been there before," he said. "It's a good way to share something unique with friends and family that they have never see before."
To check out his adventures, go to http://www.dreamyourride.com