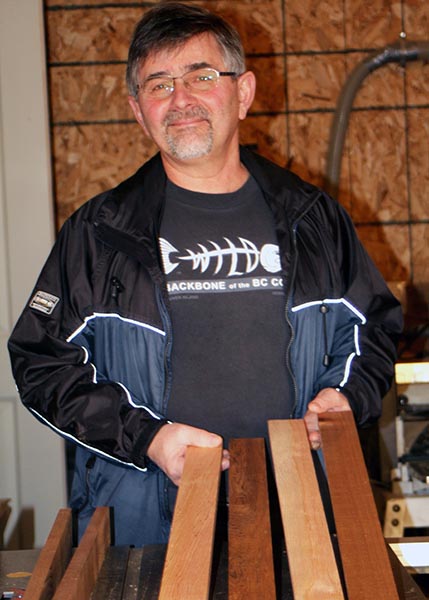 Werner Krupek likes to choose a mix of colours and shades to make each of his wood creations unique.
Werner Krupek knows a lot about wood. He spent most of his working life in the lumber industry and after he left his career at the Somass Mill, started to explore the creative side of woodworking.
Werner was born in Germany, and like many immigrants, his parents were in search of a better life. When he was five years old, the family, including his parents and three brothers, landed in Vancouver. His father, also a logger, met H. R. McMillan, who was recruiting workers for the booming industry. He started work right away in Port Alberni and the family lived at Franklin Camp for a few years before moving into town.
Werner followed in his father's footsteps, and after he finished Grade 11, went to work at the Somass Mill. He worked on the machines until acquiring a management position in sales. By 2002, and reaching his fiftieth birthday, Werner and his wife, Margo, decided it was time for something new.
"We moved to Hornby Island for something different," he said. "It was a different lifestyle."
That was when he began his first big project – building his own home.
"I started small, with one room, and it grew to include a shop and garage," he said. "People started wanting me to build stuff for them, so I got into woodworking. Everything was made out of reclaimed wood. Margo's dad was retired and collected wood that I hauled back to Hornby. That's how it all started."
Werner saw an opportunity to do something with wood that would have otherwise been thrown away, and at first was making about 30 to 40 different items, including Adirondack chairs, planters, benches, tables and a lot of smaller housewares. He designs his own unique patterns and after some trial and error, has come up with a niche that is working for him. Rather than offering too many products, he has narrowed down his specialty to about six top sellers.
"I haven't been able to keep anything in stock," he said. "I do limited custom work because I don't have enough time for it. I do this as a hobby but it works out well that it is something that people want."
When the Krupeks returned to Port Alberni, Werner continued to work out of a small basement shop. Soon, he outgrew the space and last year completed a larger outdoor workshop, which started out as a shelter for his boat.
Werner's work has been selling all over the Island and Gulf Islands. He has a regular client, a real estate agent, who provides each of the homes she sells with one of his pieces. Another buyer casually rode his bike past his sales booth, asked for his phone number and called the next day with a $500 order.
"I consider myself a wood artisan and have a real appreciation for wood, especially cedar, since I have worked with it all my life," he said. "I am also very particular with my work and proud of the stuff I send out."
Word-of-mouth has been Werner's best form of advertising but he also has a Facebook page, Woodpecker Woodworks, with photos of his work and information on placing orders.