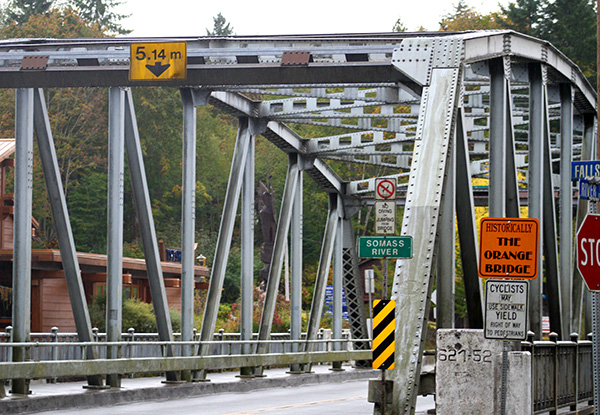 The "Orange Bridge"...historically a topic of controversy.
The topic of the Riverbend Bridge has stirred emotions among both longtime residents and confused tourists ever since the colour went from the infamous orange to the standard grey. The bridge had not always been orange and has not always been constructed of steel, but the structure connecting River Road and the Pacific Rim Highway has a varied history in the Alberni Valley. 
Before the current steel truss structure was built in 1951, there were several wooden bridges in its place. The very first Riverbend Bridge was a wooden truss structure, erected in 1890 by Mr. Pinkerton, a pioneer of this district. The following year, James Thomson arrived from Vancouver with his wife and five sons to purchase the acreage at the river's bend. For many years, the bridge was named Thomson's Bridge. 
Between 1890 and 1913, that bridge was replaced by the Rockett Brothers, and in 1913, bridge builder, Norman Wood built another wooden truss model. 
In 1928, George Cathcart was in charge of the final wooden bridge project. It was in 1952 that the Dominion Bridge Company upgraded the bridge to steel. Since then, the Ministry of Transportation and Infrastructure have implemented regulations for bridges on highways, including aesthetics. For decades the bridge was painted bright orange and referred to by most as the "Orange Bridge". 
Despite many people's attachment to the colour, there were reasons for the new paint job. Publications from the mid-1990s indicate that colours for both parkway and tourway structures have to "match the natural setting".  Pat Trippell, Bridge Manager in 2001, wrote a letter in response to the subject to explain the changes. 
"In 1990 the Region had prepared a contract to repaint this bridge and sent around a memo and list of approved paint colours for bridges being repainted. The existing colour of orange was not on the approved list of colours mainly because of problems with the pigment otherwise the paint faded terribly and when touch up was required, the repainted areas looked a different colour of orange," Trippell wrote.  
"At that time the options were to pick an approved colour that would best serve the needs of the Ministry. Those needs were met with choosing a colour that was recommended matched colours of bridges in the area and would be the easiest to touch up and remain in character with the area. Many structures were already painted gray and this colour would be the standard as other structures in the area are repainted," he concluded. 
The Area Manager for Bridges for Central Vancouver Island, Kevin Carter, said fading paint still remains a problem today. 
"A good example of the fading and difficulty in matching the orange paint is apparent on the Englishman River bridge on Highway 19A in Parksville," Carter said. 
Regardless of the colour, it will continue to be known "historically as the Orange Bridge".