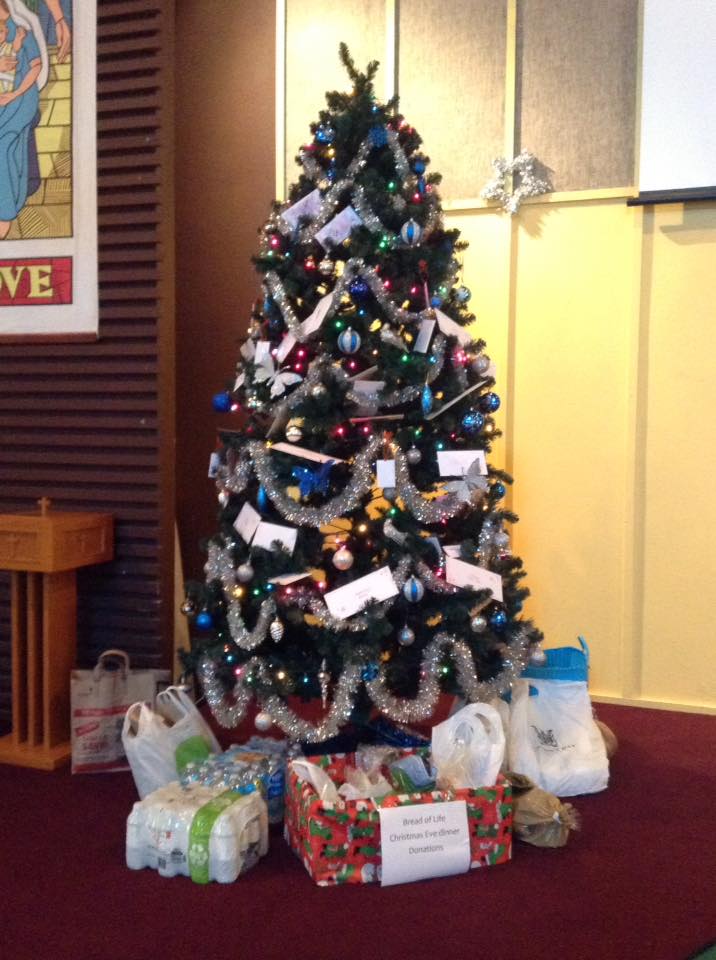 This is what it looked like under the tree at the Alberni Valley United Church after White Gift Sunday.
December 13, 2016 - 12:43pm
Last Sunday, members of the Alberni Valley United Church brought in enough contributions of food and money to make Christmas a little brighter for each guest of the Bread of Life. Held on the third Sunday of the advent, the long-standing tradition of White Gift Sunday ended with a generous showing of support.
The tradition started in the United Church about 25 years ago and Reverend Minnie Hornidge believes it has taking place in Port Alberni for just as long.
"It started with people bringing gifts wrapped in white, largely for families," Minnie said.
Changing times have resulted in gifts being turned into more items of necessity, so rather than white wrapping paper, there were many white envelopes of cash under the tree this year. Donations were also collected in response to the Bread of Life wish list of items needed for its annual Christmas Dinner.
"We collected enough potatoes, carrots, dill pickles and water to serve 125 people on Christmas Eve," she said. "We also collected $720 for the Bread of Life to use to purchase small gifts to give to each guest."
As a board member of the Bread of Life, Minnie said the desire to give is something ingrained in herself, as well as members of the church.
"It is a part of who we are and part of our core value," she said. "It is our commitment to our faith to contribute to those with particular needs."
In the past, gifts from the collection have been received by the Port Alberni Shelter, local schools, and the transition house.
"The tree looked full with goods under it," Minnie said. "That is a symbol of the generousity in the Valley."
Since she wears a number of hats, Minnie will be helping prepare for the dinner on Christmas Eve, just before heading to the church to lead two services. At 7 p.m. a shorter, family service will be held with a carol sing-a-long and the reading of a book to match a barn backdrop.
"It will end with candlelight and glow sticks and the singing of Silent Night," Minnie said. "By then the kids will be ready to hop into bed."
At the 10 p.m. service, there will be more carols and a candlelight service.
Before that, the Bread of Life will be showing a new look inside the building with a Fresh Start Grand Opening and ribbon cutting. The walls recently received a fresh coat of paint to make it brighter so the board members and staff want to welcome everyone to check it out on Dec. 19 at 2 p.m.