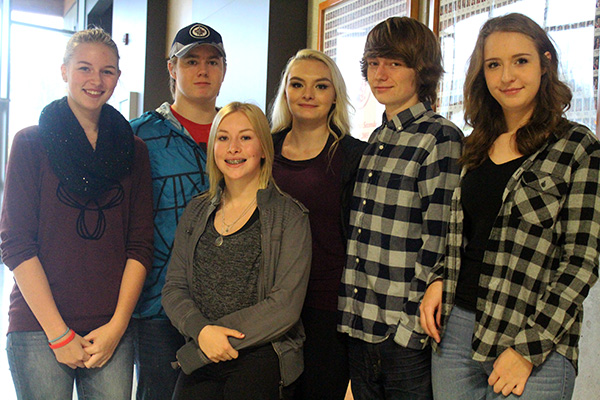 Along with the entire Civics Studies 11 class at ADSS, a group of six students are focussing on the project. From left are Paige Tardif, Andrew Check, Theresa Gingras, Jessica Dagenais, Josh Nass and Odessa Faust.
December 4, 2015 - 7:51am
Students at ADSS have started a project to help address the most common question that comes through the Visitor Centre - Where can I eat in Port Alberni? 
With the help of Bill Collette, executive director of the Chamber of Commerce, the Civics Studies 11 class is developing a guide of local eateries and food producers. Collette was first interested in the publication when he picked one up in Parksville and wanted to replicate it for Port Alberni businesses. The goal is to include all restaurants, grocery stores and farmers. He contacted teacher, Anne Ostwald, and although the project is different than most that her classes develop, she was on board with the idea. 
"This is the first entrepreneurial and business-oriented one," Ostwald said. "The Civics class usually looks at what we can do through the government to make a difference in the town. But this still makes a difference and is an amazing opportunity for the kids to learn how to be entrepreneurs."
It is one of the larger projects she pitched to her students, but they were up for the challenge. All hands are helping out but a small group of six are focussing on it as its main project of the year.
The booklet will be designed to fit in a pocket or purse. Students have been working on the initial layout and design and hope to reach all food outlets in the Valley. They also want the whole student body involved by having a photo contest to include local landmarks and scenery.
"It will give tourists more choices because they will have everywhere to go right in their hands," said student Andrew Check. 
Collette said the local publication will go one step above the current Oceanside directory, which lists only restaurants. 
"We are taking this current product dedicated to restaurants and expanding it to give all food producers an opportunity to be in it," he said. 
Grade 11 student Theresa Gingras has been working with Collette since the beginning.
"I pushed for it because I thought (the food industry) is something we should focus on and it is business-oriented," she said. 
She said the challenges the class is facing are having it completed on time and making sure it includes all businesses. With the help of Collette, they are encouraging restaurant owners, grocers and farmers to take part by having either a large or small presence in the directory.
"It will help get their name out to tourists who need to know where to eat in town," Gingras said. 
Gingras said she took the class to be able to do something tangible for the community. 
"It is project-based and hands on," she said. 
Other projects Ostwald's classes have completed in the past include the creation of a beautification bylaw, a billboard, and most recently, the new didgeridoo tsunami warning system test notification.
The new food guide will be coming off the press by Spring 2016 and distributed at various locations around Port Alberni, including the Visitor Centre. Anyone interested in more information can contact Bill Collette at bill@albernichamber.ca or Anne Ostwald at aostwald@sd70.bc.ca.