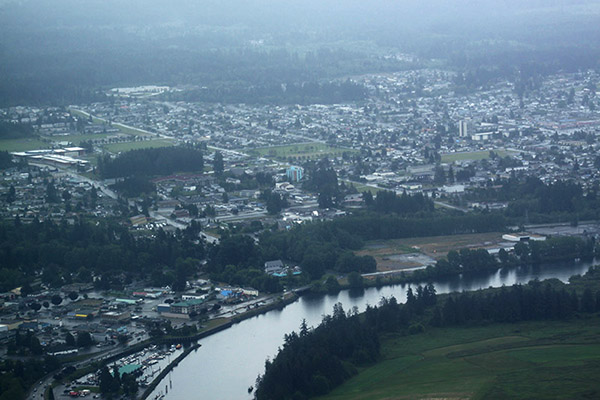 Organizers of a revitalization pilot project want to hear your stories about local places Sat. April 9.
Is there a place in Port Alberni to which you feel a deep connection? Did you marry your high school sweetheart in one of the many churches in Alberni? Are you a business owner who has spent countless hours at your establishment? Or maybe you remember a building from your youth that is no longer standing? Now is your chance to tell those stories. 
A group from Vancouver Island University is looking to capture local residents with such stories on video tomorrow. The pilot project, Where is Here?, is a new initiative designed to add a creative element, storytelling, into municipal planning strategies. Port Alberni is the final of three communities chosen to participate. 
Sharon Karsten, a VIU PhD. student from Courtenay, is working alongside several professors on the project after receiving a funding grant. 
"It came about after we started talking about ways to bring storytelling into planning," Karsten said. 
Largely from Nanaimo, the professors secured a partnership with Pat Deakin, Port Alberni's economic development officer, to gain local insight. 
"Pat is helping with communications and secured the locations for us," Karsten said. "We feel it is important to have people who are connected to the local areas." 
Organizers are asking residents to think about a specific location in the two pre-amalgamation communities of Alberni and Port Alberni. They want to hear why that spot has a personal meaning, provides inspiration or even gets someone's blood boiling. The location must be within a 15-minute walk from either Twin City Brewing or Char's Landing. On Saturday, interested participants will meet at one of those places for a series of walking tours. 
"Groups will walk to what we are calling "connect spots", places within the core where residents feel connected to the community," Karsten said. 
Individuals will be recorded for short video clips that will later be uploaded on an online interactive map. Recently completed in Nanaimo and Courtenay, two communities also looking to improve their downtown areas, Karsten said the response was positive. 
"It was fascinating to see why people feel connected to certain areas," she said. "For some, they have a personal reason and others just see a lot of activity happening there. We have seen everything from waterfront areas that draw tourists, to the place of someone's first kiss and non-profit organizations that have different agendas and impacts on the community." 
She said some people are also attracted to old decrepit buildings that were once flourishing economically. 
Karsten is unsure of the long-term effects of the project, but hopes it will shed light for planners when thinking about development opportunities, land use and zoning. 
"We are thinking holistically how and why we are using space and showing how people feel connected personally through spaces," she said. "We don't have a prescribed use for it yet, but are pioneering it because of the demand for storytelling." 
Anyone interested is asked to meet at either Char's Landing or Twin City Brewing (4503 Margaret Street) for a walk-about at 10am, 11am, 12:30pm or 1:30pm on Saturday, April 9. For more information, contact Karsten at sharonkarsten@live.com or check out http://www.whereishereculturalmapping.com.