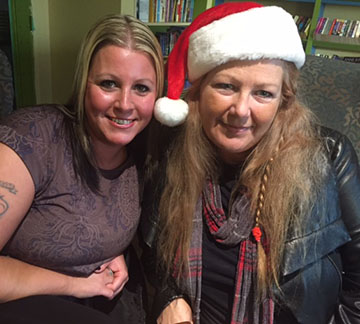 Michelle Gard and Shari Fast are well on their way to providing 50 hampers for the elderly this Christmas.
November 15, 2016 - 10:30am
Last Christmas, two local women made a difference by putting a smile on the faces of single seniors who spent the holidays alone. They did not stop there and immediately planned for a bigger and better donation drive for this year. Michelle Gard and Shari Fast already have many donations in hand and will soon be putting together hampers full of food, gifts and special items to deliver in December.
"Last year we put together 22 hampers and were very happy," Michelle said. "But we only gave ourselves three weeks to organize everything so this year we started earlier and are hoping to do 50."
The idea came about when Shari saw the result of her father, who lived alone in Nanaimo with limited mobility. She made a care package for him and started to think of those who could not get out on their own.
"My dad was my inspiration to start," Shari said. "He passed away in August so we hope to make this year bigger with more awareness."
The hampers will contain essential items and non-perishable food, but the two will also include some comfort gifts and other goodies the recipients might not be able to afford themselves. The monetary donations received will be used for groceries, including some perishable items.
"We are looking for the community to help with knitted mitts, scarves or slippers," Shari said. "Last year someone donated a tin of ham for each hamper and someone else gave us jewelry. Delicacies are nice at this time of year."
To raise money, they have set up a "Seniors Greetings" bank account at BMO and will be having Santa photo sessions at Naesgaard's Farm and Market on Nov. 26-27 and Dec. 3, 4, and 17 from 11am to 2pm each day. 
Recipients of the hampers this year will be chosen by the Port Alberni Senior's Advisory Committee and the Sunshine Club and kept a surprise until they are received. Shari and Michelle, along with her seven-year-old son, will be making the deliveries near Christmas Day.
"Last year it took two trips to deliver them all," Michelle said. "We loaded up the vehicles and off we went. The reactions were mixed but there were a lot of warmth, tears and hugs."
So far the two have received generous support from businesses and want to extend a friendly competition to other businesses, organizations and sororities. For more information on how you can help, send either Michelle at 250-918-0618 or Shari at 250-735-0875.