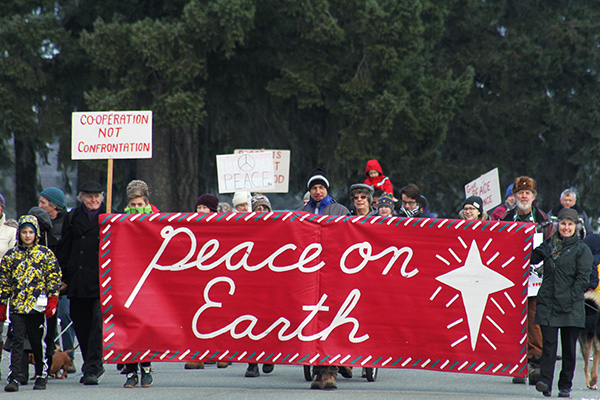 Last year a group of peace marchers walked in solidarity from Glenwood Centre to Abbeyfield.
December 30, 2016 - 7:01am
For many, the New Year is a time for setting goals and starting out on a new path. For others, it is a time of reflection, examining one's life and offering to better the world around them. One way several local residents have been beginning the year is through the annual Peace March on January 1.
When the walk was launched in 2000, organizers recognized the chaos surrounding Y2K concerns and impending problems with technology. Although the panic subsided, a new tradition was sprung in a positive way.
"It was a challenging time for the computer age and countries were at war, and still are," said Jack Granneman, who has been coordinating the event since day one. "So a group got together to walk from Glenwood Centre."
Since that time, participants have gathered at Abbeyfield for entertainment and provided with a free lunch at the Guru Nanak Sikh Society.
For the past three years, the theme of the walk has been "Let Peace Begin With Me".
"The New Year is a time to make resolutions and we want to encourage people to start with peace within themselves, and then bring that into the community, the province and the whole country," Granneman said.
He said the desire to share that peace is what drives him to continue every year.
Typically, about forty people turn out, carrying flags and handmade signs to walk down Tenth Avenue. Ending at Abbeyfield, there will be music, speakers, and songs. The event is loosely organized and an open mike will be available for anyone wishing to share his or her own personal message, song, or motivation for attending.
Granneman encourages people to bring their own symbol of peace.
"We want to make it a joyous event for people to feel their inner joy," he said, hoping residents can make it out around the Polar Bear Swim.
Anyone wishing to take part is asked to meet at Glenwood Center by 11:30 a.m. on January 1.