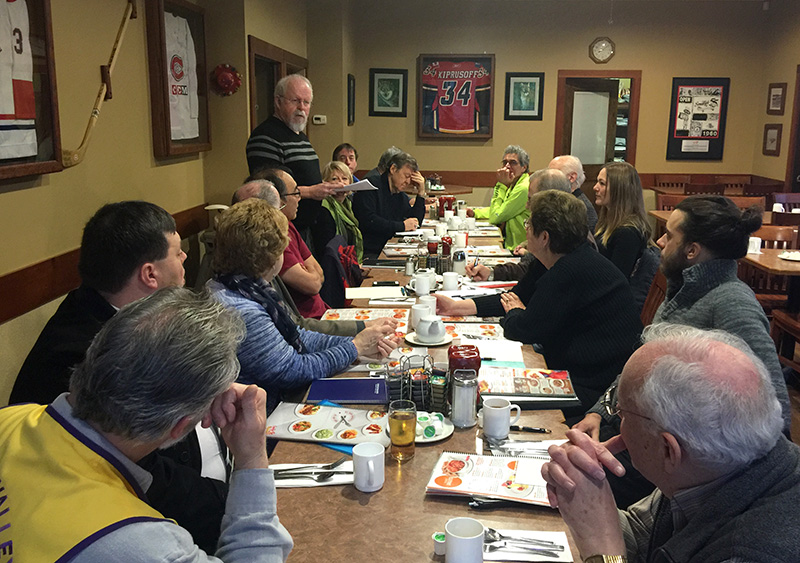 A number of service group representatives met recently to discuss volunteer challenges and how to recruit more in the community.
February 16, 2016 - 11:06am
The City of Port Alberni is teaming up with local not-for-profit organizations to help address the need for volunteers. Theresa Kingston, director of community services, believes volunteerism has changed over the years and it is time to address the issues, including recruitment and commitment. 
The idea was raised in January 2015 after she, along with service groups, hosted a workshop in Nanaimo. The biggest issue was how the non-profit sector could be better supported and interest was strong. 
"That workshop was full," Kingston said. "I do a lot of board governance out of town and see a need for it locally, so we are holding a meeting in continuation of that." 
The meeting, set for Monday, Feb. 29, is a chance for all organizations to start the dialogue and discuss with others the challenges and issues facing the volunteer service sector. Kingston said likely the largest issues will be volunteer recruitment and burnout, fundraising and the roles of board members and governance. 
"What volunteers are looking for has changed and organizations haven't kept up with that," she said. "They are having the discussions but are doing it in isolation. This is a chance to see what can be done to address the issues."
Not only will groups be able to discuss similar challenges, they will have a chance to network and present opportunities to collaborate. 
In January, about 20 people representing eight different volunteer groups attended a meeting based on the same concept. The main issues were the aging population of volunteers in service groups and what needs to be done now to ensure these organizations can continue into the future. Suggestions raised included engaging youth at the high school level in volunteerism and to counteract the reputation of Port Alberni as the "Worst Place to Live". 
The general consensus from that meeting was the need for a central community website where all community group information and current contacts are listed. Alberni.ca was suggested. 
Kingston said Parks and Recreation is also currently working on updating its community directory and looking at producing an offline community calendar. 
"We want to work together with alberni.ca in terms of referring people to the website as a place to share events and increase the groups' awareness of opportunities through alberni.ca," Kingston said. 
The listing available through Parks and Recreation is intended to be a calendar format that people can pick up and see the month of events at a glance. 
Kingston is optimistic about the response for the upcoming discussion and has a waitlist of interested volunteers. The location has changed to Gyro Youth Centre to accommodate the large group and starts at 7 p.m. on Feb. 29. For more information, contact Kingston at 250-720-2506.