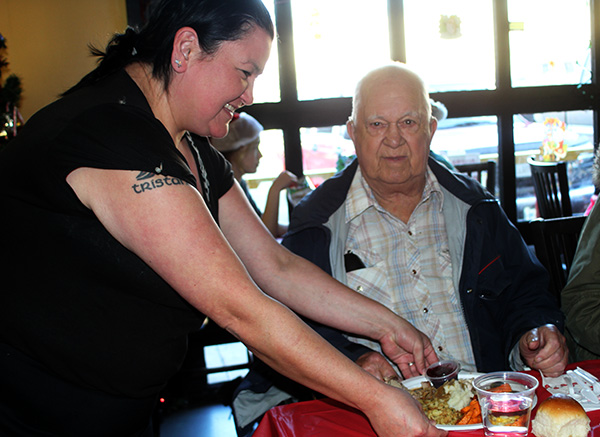 Kim MacDonald serves up a full plate of turkey, ham and all the trimmings to Darall Amos on Christmas Day at the Pizza Factory.
December 25, 2015 - 3:48pm
More than 150 people were fed a full Christmas dinner today at Pizza Factory. With the help of volunteers and donors, there were three seatings held over the afternoon to accommodate everyone and no one walked away hungry. 
When Brian Calm initially had the idea in November of hosting the dinner, he thought it would be a way for local businesses to give back. They did that through food and monetary donations but it became more of a community event. 
"That (idea) lasted about a week but then the public sector jumped in and all the gifts were donated and the money is going to the Ty Watson House," Calm said. 
When the doors opened at 1:00 p.m. for the first sitting, the restaurant filled up with 52 people. 
"There was a lot of media attention, and through social media, so there was a lot of awareness," Calm said. "Some people here just didn't want to be alone for Christmas. An elderly woman's husband is in a care home and she asked if she could spend Christmas with us. Those are some of the ones we wanted to come." 
The dinner was also open to police, firefighters and paramedics, as well as anyone else working on Christmas Day. 
The majority of the food was donated and because the pizza ovens are too small to cook 13 30-plus pound turkeys, Calm turned to youtube for help. He ended up piecing them, wrapping the parts in tin foil and cooking the separated birds. 
Volunteers were also busy in the kitchen and on the serving line. 
"Wally and Iris Plumpton were in here at six in the morning peeling 100 pounds of potatoes," Calm said. "We had a woman on maternity leave with years of kitchen experience. She told her husband that he would be alone on Christmas morning and she came in to carve all the turkey. Rachel Titian was preparing carrots, brussell sprouts, setting tables and cleaning." 
The MacDonald sisters were also instrumental from the beginning. Kim, Cheryl and Val provided a drop-off location for the hundreds of gifts for children and wrapped each, labelling them with age and gender. 
"As soon as I saw the post I wanted to help out," Kim said. "A few years ago when I moved back I was a single mom and had to use the Salvation Army for my family to have a Christmas. Now I am back on my feet so my son and I came to help give back. It feels nice to help and everyone is smiling." 
Calm said he is already thinking about ideas for next year and since his annual service keeps growing from year to year, he intends to make it bigger. Two years ago he gave out 36 free pizzas and last year he put out a challenge to businesses to sponsor families.
"I would like to do something similar to this next year but it will be something bigger," he said. 
He said between the volunteers, businesses, and those who enjoyed the meal, it was a win-win situation. 
"As humans it is in our spirit to give," he said. "When we think about thanking the spirit, we should think about the human spirit. We get a payoff for doing something good and that payoff is in the heart and it is contagious." 
Calm will be donating $1,000 to the Ty Watson House to help with maintenance of the air conditioner.