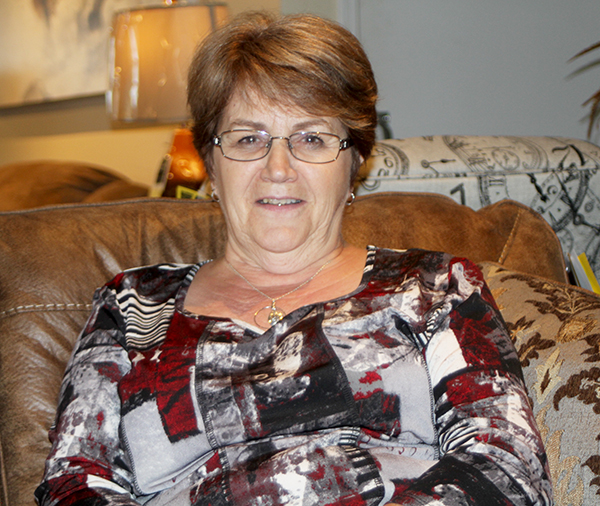 Rita McKinnon is the Salmon Festival treasurer, a volunteer position she has been committed to for more than thirty years.
September 2, 2016 - 7:54am
Rita McKinnon has been a long time volunteer with the Salmon Festival. It is people like Rita, who's dedication help the event run smoothly, especially when finances are involved. Between prize money, entry fees and expenses, Rita has had everything under control as treasurer for the past thirty-plus years.
When she first started volunteering with the Salmon Festival, it was in the mid-1980s and she was scooping ice cream with her sorority. In those days, each vendor was required to have one or two members sit on the festival's board. Both Rita and June Caldwell joined on behalf of their group.
"It just so happened that the treasurer at the time, Jan Cole, left, so I was asked to replace her," Rita said. "So within the first year I became a director as treasurer."
Rita's role is to look after the distribution and collection of derby tickets, collect hidden weights, get trophies for karaoke and largest fish winners, pay the bills and hand out hidden weight monies. It is a busy weekend of working eight to 12 hours per day, but Rita also puts in many hours before and after the festival.
"It is great to be there with a group that I usually only see at meetings," Rita said.
She said she also enjoys the fireworks and salmon dinner.
"I always bring my grandkids now for the fireworks," she said. "We go on someone's boat and sit in the marina to watch them."
Although the sorority is no longer able to scoop hard ice cream, their job is made a little easier with packaged cold treats, but Rita is part of a long generation in the local dairy industry.
"When we first started, Dairyland provided the ice cream and then my family was with McKinnon's Dairy so we continued," she said.
Other changes she has seen is the number of fish caught and the various entertainment provided.
"There are not as many fish being caught as there were years ago," she said. "I also remember Meeks the Clown. He passed away but he was there for years."
Although Rita will be a landlubber over the weekend, she does enjoy fishing and took part in the power squadron derby with her husband.
Rita knows it takes many hands to successfully run this well-known tradition over the Labour Day Weekend and hopes to see some new faces come on board.
"Like all other organizations, volunteers are getting older, so we are always looking for more younger people."
If you would like to help out or just check out the Salmon Festival activities, head to the grounds of Clutesi Haven Marina starting tonight. It runs straight through until Monday. Keep up with the latest news on the Port Alberni Salmon Festival Facebook page.