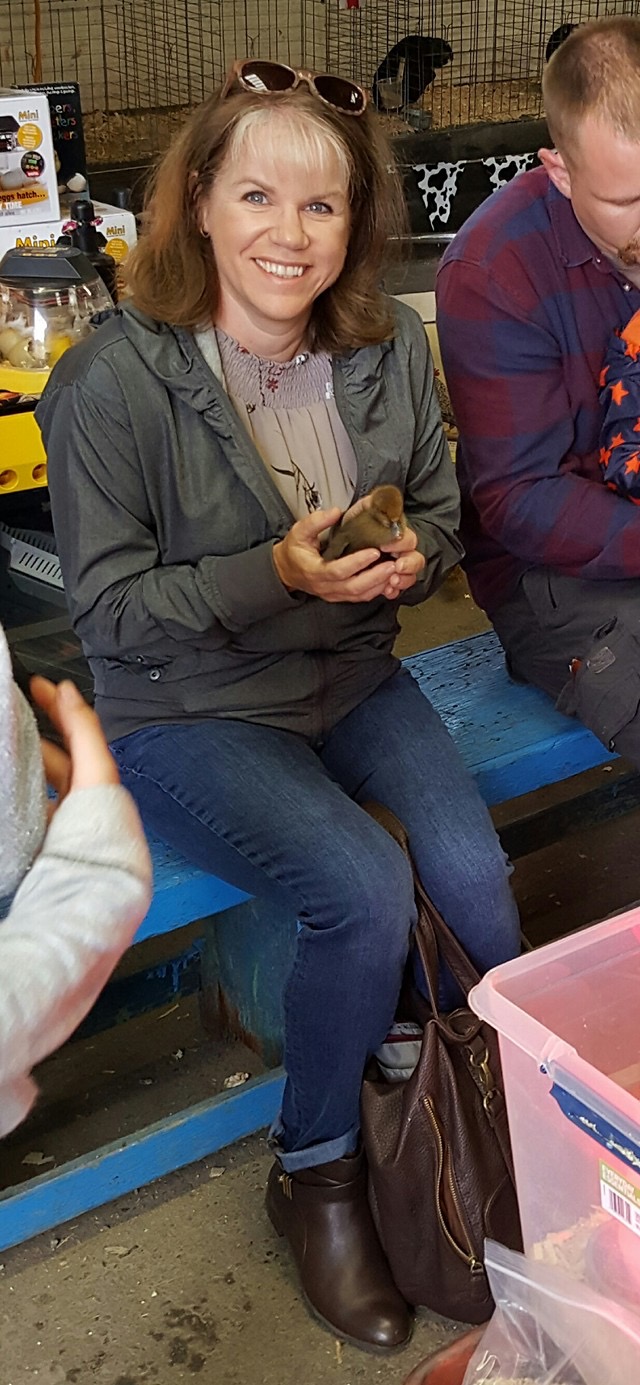 Carol Cutforth was recently at the Abbotsford fair learning some tricks of the trade to bring home to Port Alberni.
September 6, 2016 - 2:54pm
Carol Cutforth knows the Alberni District Fall Fair well, and she should, she has been volunteering there since 1982. For Carol, a member of the Board of Directors, the fair is a year-round commitment.
Carol's family moved to Port Alberni in 1981, and her father, Willy Smith, joined the Kiwanis Club the following year. As the largest project for the Club, Carol's mother, Brenda, ran the office so Carol started coming to the grounds to help out too. She was there when the Kinsmen Community Center was new and its mortgage was still being paid.
"I remember my job as a kid was picking up all the big rocks outside because it was all gravel," she said. "When I was nineteen, my first big job was cooking for all the volunteers."
From there her responsibilities increased and this year for the first time, Carol signed up to coordinate the Fair Services. She overseas a number of other volunteers, including those who organize the Home and Business Show and the food vendors.
She has been on the grounds over the past weekend "direction traffic, organizing kids and making lists of things to be done," she said.
One of Carol's personal projects is the Amazing Game. Formerly the Amazing Race, which took place all over the Fair grounds, it has been streamlined to keep the young participants in the same area. It is a special event that takes place on Friday night and has kids completing various challenges. From there, they go on to the Elimination Round for the chance to win cash. Carol has about 12 to 15 volunteers who help with it so the participants have someone to ask questions and advice if they don't understand what to do.
"We don't want kids to struggle," Carol said. "We want everyone to have fun."
Carol said the Fair has a wonderful group of volunteers and she is excited to be recruiting a new, younger group of helping hands. The Junior Fair Board is a group of 14 to 19 year olds who have been organizing several of their own projects, including the colouring contest, Saturday's Dunk Tank and a photo booth that will take place in the Home and Business Show building.
"They are seeing how the Fair works and how to fund their own projects," Carol said. "They were just told to show up prepared to get their clothes dirty."
Carol is currently undergoing a whirlwind of life to keep up with family responsibilities, but it helps that she has two of her step-children on-site helping out as well.
"I just need to plan ahead and you just do what you need to do to squeeze everything in," she said. "I've learned that it is ok to take a break and go for dinner to have some quality family time."
If you are at the fair between Thursday and Sunday, be sure to thank one of the many volunteers for their coordinated efforts in making the annual event a successful one. Stay updated by following the Facebook page here.