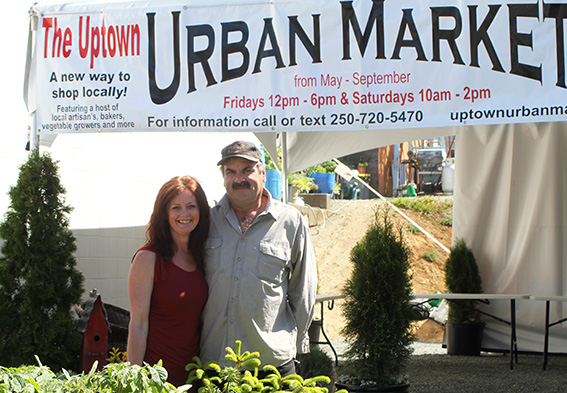 Marie Knoll and Keith Ambrose are kicking off the season with a grand opening of the Uptown Urban Market on Friday, May 6.
Another option has popped up in the Uptown area to provide a farmers market-type feel and to offer the community a selection of produce, baked goods and homemade preserves and crafts. The grand opening of the Uptown Urban Market kicks off today at noon and will be open every Friday and Saturday through September.
Organized by Marie Knoll and Keith Ambrose, the outdoor market stemmed from Marie's early years in the garden and her desire to give others entrepreneurial opportunities.
"It all started when my mom forced me in the cabbage patch," Marie said. I've been doing it ever since. I am a farm kid at heart so it's easy for me."
Marie went on to achieve her horticultural degree and for years has created her own line of essential oils, spices, herbal teas, salves, balms, lotions and incense resin, which she sold at local markets. Since January, she has been marketing on her own under the tent at the Uptown Urban Market. She said it has been her customers over the years who have helped make this happen and have encouraged expansion.
"There are a lot of 20-somethings who are jumping on the bandwagon and gardening and want to be a part of something bigger," she said. "I want to help them attain their goals. This is something everyone can be a part of and be a part of the growth. People want more access to locally-grown."
Located at the top of 2nd Avenue, Marie and Keith feel the venue is a jewel in the rough.
"The location is accessible and is within walking distance to Uptown and Harbour Quay," Ambrose said.
Based on container gardening to make the most use of space, he also has plans for future expansion.
"This idea just snowballed with interest," he said.
He plans to add a rooftop greenhouse, gardens, food made on-site for quick take-away, chef demonstrations and workshops.
"We just planted the seed, the community fertilized it," Marie agreed. "This is a good opportunity for people to get into business. Customers have always asked if I teach, so I want it to be a place to learn and not just a market."
So far, the market will feature vendors who "make it, bake it or grow it". They are looking for anyone from those with a surplus to sell to hobbyists who have a niche with their seven-pound tomatoes. Along with Marie's booth, almost ten tables have been secured with microgreens and fresh vegetables, farm eggs, locally-roasted Misty Ridge coffee, a variety of ethnic baked goods and a crafter.
For more information, check out the Facebook page or stop by 3135 2nd Avenue today or tomorrow.