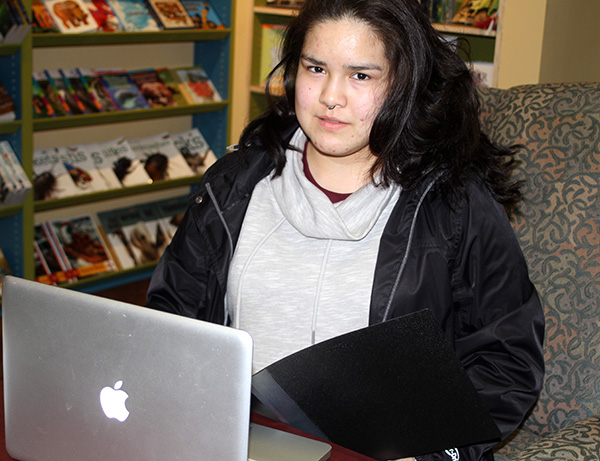 Sarah Etoile takes a break from her photography to make sure she stays on top of her studies.
A local aspiring photographer has been using her passion for self-expression for many years but a last-minute decision helped determine some long-term career goals. Sarah Etoile was recently accepted into VIU's Aboriginal Ecotourism Program and intends to use the training to work in the area's First Nations communities to boost economic development and encourage language revitalization.
Sarah, of the Ditidaht First Nation, said she has been influenced in the arts since childhood. Her father, Cecil Dawson, is a well-known artist and carver and although inspired by his work, Sarah chose photography as her creative outlet.
"There was always a lot of pressure to be in the arts," she said. "But I couldn't draw so I took up photography as my art form."
Sarah spent a lot of time during high school at the former Academy on Margaret Street, where she started photographing bands during the concerts. She enjoyed the challenge of capturing the musicians in their element and the essence of the performances.
"I am able to express myself through art but in a different format than (my dad)," she said. "I am very inspired by his work ethics. He is always onto something new and motivated to learn."
As a self-taught photographer, Sarah tried to take a media class in high school but did not like feeling restricted to rules.
"I realized I could never survive art school because I don't like being told how to do art," she said.
Since then Sarah has expanded her portfolio to include portraits, particularly ones taken outdoors.
"I used to do zombie and horror themes but now I like to capture people in the moment, especially hiking," she said. "We live in a beautiful place for it."
When she graduated from ADSS in 2010, Sarah applied to VanArts but when her funding was turned down, she decided to take the year to determine her next steps.
"I decided to go into business which is completely opposite of my goals, but most photographers said to go to school for business because you need to know that side," Sarah said. "I was accepted to VIU and set to do that but then plans changed. My mom passed away one week before I was about to start. I had to take more time to figure out my life and career goals."
She said it was a loss that affected her greatly, especially since it was her mother who influenced her business interests.
"She was so stoked that I was accepted," Sarah said.
After considering her upbringing learning three First Nations languages, the choice was between linguistics and business. Rather than choose one, Sarah decided to go after a dual major.
"I have a promising career in business and a background in linguistics," she said. "My goal is to work with tribes in First Nation communities."
She hopes to one day be able to contribute to the revitalization of many of the dying First Nations languages.
To start, Sarah jumped on the opportunity to take the nine-month Aboriginal Ecotourism Program. It was a spur of the moment decision when a seat became vacant and she applied the day before the start of classes. The program will take students on extensive field work to several communities on Vancouver Island and although Sarah started one month late in February, she said she has had no problem fitting in.
"It has been intense because I haven't been in school for awhile and I don't have a background in tourism, so it was almost like culture shock, but it is going well," she said. "Everyone is very welcoming and I don't feel out of place."
Although busy with studies, Sarah still brings her camera with her and has found opportunities to share her photos with the program and tourism websites. For her, it is the perfect balance of career and hobby, and most importantly, enjoyment.
To see more of her work, check out https://www.facebook.com/etoilephoto/