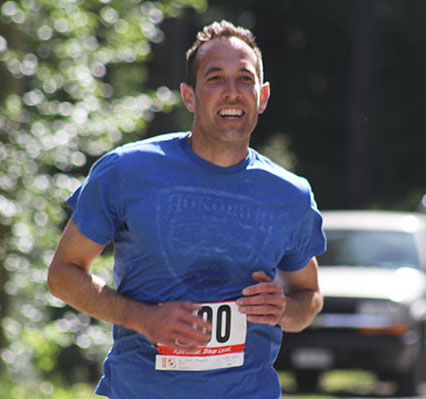 Local runner John Miguez placed 9th overall in the No.7 Challenge on Sunday, with a time of 44.32.
It was a challenge achieved by only twelve feet on Sunday. In times under 43 minutes, six runners competing in the No. 7 Challenge beat the train in a race against the locomotive from the train station to McLean Mill. The fourth annual event attracted a record number of 204 registrants, with 160 finishers.
Local runner, Royd Burkart, took first place with a time of 36.32.6, while the No. 7 train placed seventh at 42.36.0.
According to Chamber of Commerce executive director, Bill Collette, the event was a success all around.
"I was really pleased," Collette said. "Our initial target was 100 people, which we had months ago."
Collette said that with participants from all over Vancouver Island, the lower mainland, Terrace, Calgary and Ottawa, there is potential for even more growth next year.  
When the inaugural run took place in 2013, it was the brainchild of local runner Brian Callender. He had been living in Australia training as a physiotherapist and was inspired by the Puffing Billy Great Train Race. Always active and health-oriented, he signed up and thought it was a unique running race. Not long after, he returned to Port Alberni and learned of the Number 7 steam train doing regular rides and special events to McLean Mill. The first two years, Callender organized the run at a grassroots level with a handful of volunteers.
This year, with the help of the Alberni Valley Chamber of Commerce and a number of sponsors coming on board, the event grew exponentially. Previous years participant numbers ranged from ten to 38, but outside marketing attracted substantial out-of-towners looking for a destination race. They were not disappointed, according to Collette.
"We had over-the-top feedback," he said. "People love it, loved the course and the idea of racing a train."
Even though the event was competing against the BMO Marathon in Vancouver on the same day, many running enthusiasts chose Port Alberni. Those who came from out of town heard about it through promotions at tradeshows in Victoria, information booths at the Victoria Marathon and Times Colonist 10km, attendance at other races, and both traditional and social media.
The mill was operational and the grounds set up with a classic car show and food truck. It was also a chance to show off the new gift shop. Everything was taken care of by about 40 volunteers.
"It ran smooth," Collette said. "We had everything covered and then some."
Following the race, awards were presented to top finishers. The one-of-a-kind design trophies were made and designed by Home Hardware and featured a piece of vintage rail track and spike in a wood cut-out.
Collette said he expects numbers to increase next year.
"The most rewarding thing for me was there there were a lot of people who did it who have never run before and that was a huge achievement."
Along with the No. 7 Challenge planned for next year, Collette hopes to celebrate Canada's 150th birthday with an equally unique triathlon event and is currently awaiting word on funding.
Full unofficial results can be found at https://www.webscorer.com/race?raceid=68350.