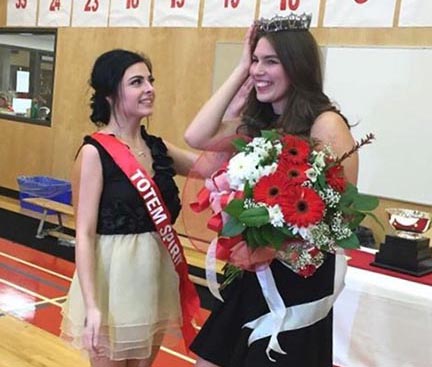 Representing the Canadian Red Cross, Jamie Vissia was crowned Totem Spirit at this year's Totem Tournament on the weekend.
January 12, 2016 - 8:11am
Organized, driven and outgoing. Those are the qualities that Jamie Vissia believes are necessary to be a candidate for Totem Spirit and on Saturday night she proved to have all three. 
When the Grade 12 student was crowned the 2016 Totem Spirit winner at the 61st annual Totem Tournament at ADSS, it was a culmination of her hard work and dedication. 
"You have to have endurance to be able to get so many people involved and to help out," Jamie said. "Totem has always been a big deal at ADSS. It's a fun time to get all the students and the community involved so it has always appealed to me." 
Representing the Canadian Red Cross was a first for the competition and something close to Jamie's heart. She has been involved with the school's anti-bullying program, Beyond the Hurt, in partnership with the Red Cross, for the past three years. Along with her peers, she travels throughout the community and to district elementary schools to mentor younger students about the program's messages. 
"We talk about the different types of bullying and harassment and teach them prevention methods and how to stand up for themselves," Jamie said. "We do it in an interactive and fun way with games and role playing." 
She said she has witnessed the impact the program has on young children. 
"When they are taught at a young age, they are eager to get involved and more comfortable around students their own age," Jamie said. "I have come across multiple situations where the students have reached out to the facilitators. Some have pulled us aside and shared personal stories that they weren't able to share with teachers. We can help them by giving them connections to people they can reach out to." 
Jamie hopes that by being introduced to the principles of positivity and respect, the students will continue to build on such values and share what they learn.
"You are never too young to teach others," she said. "They can go home and tell their parents what they learned." 
Jamie has been enrolled in ADSS's leadership class since Grade 9 and has played a role in organizing everything from pancake days to assemblies, but said the anti-bullying program has been the highlight. 
"It is a big part of who I am at the high school," she said. "I would like to be a role model and it is a feel-good type of thing to be involved in." 
It was a natural, then, for Jamie to volunteer with the Bread of Life and the Salvation Army leading up to the Totem Spirit competition. To ramp up the exposure, she and other Beyond the Hurt student facilitators took the plunge in the Polar Bear Swim at Canal Beach on New Year's Day. She is also a regular volunteer as a candy striper at the hospital. 
Sports have played a large part of Jamie's life. Along with volleyball and hockey, softball tops the list as her passion. 
"I have played for over five years competitively on the Alberni Blazers," she said. "Softball has really helped to shape me as a person." 
All of Jamie's experiences have prepared her for the tight race prior to the crowing of the new Totem Spirit winner. She said all of the candidates leaned on each other and did not hesitate to help out one another. What clinched it, she believes, was her involvement in the school and community. 
"That is the most important thing to me," she said. I was very dedicated to the whole journey and had a lot of help along the way. I had so much support from my friends, family and boyfriend." 
Jamie expects her dedication to continue through to graduation in June by remaining involved in activities and events. 
"I have a part-time job but a healthy balance is very important in my life, as I am a very social person," she said. "I love spending time with my loved ones and it is their amazing support that allows me to be a part of so many things." 
After graduating, Jamie hopes to attend the University of Victoria and pursue a career in the social sciences field.