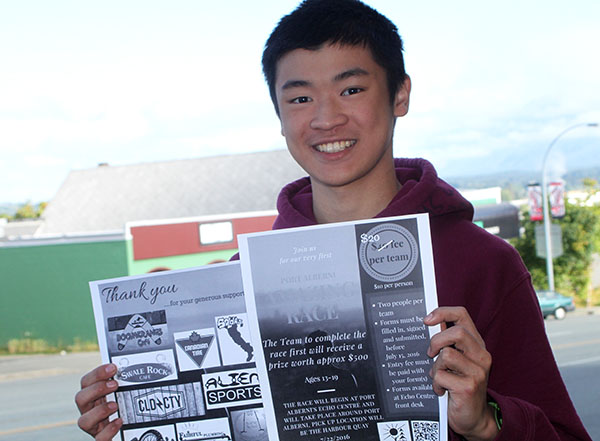 Samuel Tsai is doing his part to help give youth in Port Alberni something fun to do. His current project is the Amazing Race, set for next Friday, July 22.
Youth in Port Alberni are doing something proactive about the problem of "having nothing to do". A group, led by Samuel Tsai, is volunteering with Parks and Recreation to create events for young people throughout the summer. They started out small last month with a coffee house, but Samuel has something bigger hitting the streets next Friday.
The inaugural Amazing Race for teens is an action-packed adventure that will take participants all over town through the course of the day. Based on the television show of the same name, Samuel and about eight friends started planning the event a few months ago.
"We wanted to try to duplicate the show, but on a smaller scale for Port Alberni," Samuel said. "Some of the challenges might be surprising and things they have heard of but never done. It's a way to step out of their comfort zone."
Teams are two are signing up and will leave the start line at 10 a.m. From there they will be required to complete various challenges at stations. They range from creative, logical and physical feats. Participants will have to come up with some creative ways to complete some activities, all while racing the clock.
"It is where adventure meets crazy," Samuel said.
It has been a large undertaking for Samuel, but he said he has received a lot of local support.
"I went around one day for seven and a half hours on my bike visiting businesses and approaching sponsors," he said. "They liked the idea and have been supportive."
He said his motivation has been to provide his peers with something to do other than play video games and watch TV.
"We are doing it as a service to the community to have some fun things to do and take us away from the screen," he said. "Everyone in this day and age is glued to the screen which is really sad."
The event runs from 10 a.m. to 6 p.m. with some stations taking longer than others to complete. It is a long day but the reward for the winner will be worth it. The top prize is a $500 value of goods and cash. The top three teams will be awarded all of the participants are invited to a wrap-up party at Harbour Quay, the finish line.
The number of sponsors have helped the entry fee be affordable at $20 per team, but Samuel needs people to sign up before the deadline of Monday, July 18.
Along with Nathan Kwan from Parks and Rec, the following sponsors have been instrumental in getting the event off the ground: Boomerangs Café, Swale Rock Café, Canadian Tire, Soldas, Cloud City, Alien Sports, Ozzie's Cycle, Faithful Plumbing and Heating, Burde Beans, The Donut Shop, The Place and Coombs Country Candy.