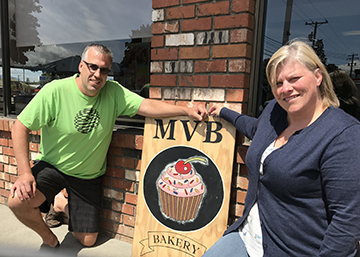 The owners of Mountain View Bakery, Chris and Terrie Admiraal, are celebrating their sweet business's 12th anniversary this month and they cannot think of a better reason to continue baking cakes and other goodies the community has come to love.
The bakery has a long history in Port Alberni. It began with Everett Vanderploeg more than thirty years ago before John Dejong took over for another seventeen years. Both Chris and Terrie have the trade in their blood, so when they came across the opportunity to purchase the shop, they took it while raising a young family. The two met while at Vancouver Community College and went on to take their apprenticeships. Living in Duncan, Terrie was a bakery manager at the Thrifty Foods there, while Chris held the same position in Cobble Hill.
"I am a fourth generation baker," Chris said. "I was born into the business. I tried a few things, like the army and wanted to be a police officer, but I was always drawn back to baking."
The move to Port Alberni began about fourteen years ago when they got word that the bakery was up for sale. As a young couple, thought they would not be able to afford it at the time. A couple of years later they were camping at Sproat Lake and the beauty of the lake helped them make the decision to take the risk.
"We were on the beach with friends from Duncan and were watching the boats from a distance disappearing to the other side of the lake," Chris said. "I was wondering where they were going to we headed to Two Rivers Arm. I was surprised how clear the water was and fell in love with the lake. From there I knew I wanted to live close to it."
The Admiraals sold their home in Duncan and moved to Port Alberni with two children and one on the way. Initially they had a hard time finding a home and as soon as they started renting, they found one close to the bakery. Chris has been walking to his overnight shift ever since.
There have been little changes since their take-over, except the addition of some new products and interior renovations. John Dejong remained for one month as he phased out and was the main bread maker. Despite his same recipe used, it was difficult for the Admiraals to convince customers.
"People thought it was different," Terrie said. "But we earned their respect. We still use all the original recipes from Everett."
New to the shelves are breads, including different varieties of sourdough and Chipmunk bread, granola bars, cheese buns and sticks, as well as a deli featuring sliced meat, cheeses, fresh salads, wraps, soups, and sandwiches.
"It has become a lunch destination," Terrie said.
She said they are also famous for their cream puffs, donuts, and custom cakes. Everything is made daily with no preservatives. They are hoping to encourage the community to support small, individualized shops like in Port Alberni's heydays.
"The 80s and 90s were tough with everyone going to grocery stores to get everything," Chris said. "But we see they are coming back to small shops."
The bakery has expanded to include being the source of fresh buns for several local restaurants and ones in Bamfield and Ucluelet. Their staff numbers went from three to thirteen employees.
"We have a pretty busy little establishment here," Terrie said.
She also shared their secret to success.
"Persistence and consistency," she said. "People want to know what they are getting."
Have a look at what Mountain View Bakery has to offer by stepping inside at 4561 Gertrude Street or visit their facebook page.