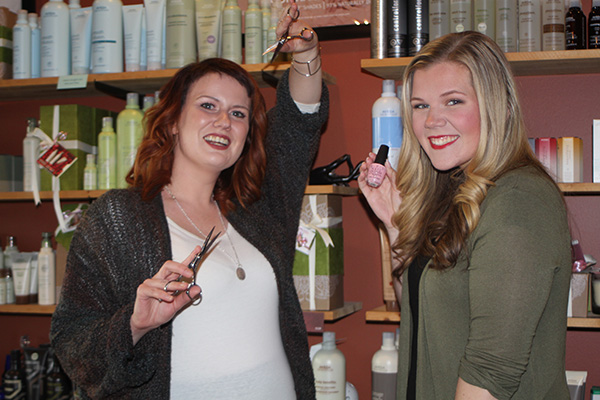 Zoe Lowell and Ashley Weightman are happy to bring home their newfound knowledge and experience to work at EM Salon.
Two employees of EM Salon and Spa have recently been recognized for their personal and professional accomplishments. Both Ashley Weightman and Zoe Lowell credit their successes to their individual drive and continued learning and hope their talents can enhance the experience for clients of the salon.
For the second year, Ashley took third place in her category at a national nail competition. The Canada Nail Cup was held for the third time in Vancouver on February 28 and 29 and attracted more competitors than in the past. Of the six categories, Ashley entered the professional division of the unique 3D Gel Design. It was a last-minute decision but she was happy to bring home an award.
"I wasn't going to enter," Ashley said.
Last year, Ashley gave herself about two months to practice, but this time, only had two weeks. Completely self-taught in the process, Ashley said she learns by doing and a lot of trial and error.
"I also took continuing education classes in shaping nails, but 3D depends on you and your creativity. I don't do a lot because it is not very practical, but I have some clients for flat art so it is helpful and nice that they allow me to do that for them," she said.
Fingernail design using 3D Gel is just as it sounds…designs are sculpted and set with gel polish. The biggest challenge during the competition is the pressure of time.
"You have to work quickly," Ashley said. "You have to be able to cure it under the light and get creative to make it look the way you want it to, unlike acrylic that set up by itself. That is challenging in one hour."
This year's theme in her category was Marine Life and Ashley was one of several professionals who came up with an octopus design on the hand of her model. Her mother drove up from Oregon to lend her hand to be judged.
"It lasted all day, but she said at the end she needed it taken off because she couldn't use her hands for anything," Ashley said.
She said she was nervous and did not expect the outcome.
"I was surprised when they called my name because I didn't think I would place," she said. "I was very surprised."
She was also able to attend classes for more extreme artwork and to learn social media skills during the weekend.
Education has been the focus for hair stylist, Zoe, over the past year as well. She completed the first series of four in the master colourist certification with Goldwell and achieved technician level. As specialists in hair colour, the program presents global standards of how service should be conducted. For Zoe, the biggest learning curve was going back to the basics.
"I had to retrain from square one, from how to dip the brush into the bowl," Zoe said. "We learned different ways of doing things."
If she completes the entire program, Zoe will be able to compete on stage, which is something she said she might consider down the road.
"I decided to start with the thought of one day being an educator," she said.
Zoe has also extended her knowledge in barbering and balayage, a popular technique of hair painting.
"I love balayage," she said. "It gets away from foils and is creative, visual and artistic. It brings the hair back to the way it was as a child's. You have to think about where the light hits."
Zoe said she has seen many trends in colour over the years, from natural looking to very unnatural. She also said she is encouraged by the number of men taking an interest in keeping up with hair style trends.
"Men are spending more time on themselves and teenage boys are becoming more aware," she said.
Shortly after Zoe completed and passed the four-hour hands-on exam, she found out she was named the Reader's Choice Winner for best hair stylists in the annual Alberni Valley News survey.
"I was totally humbled because it has been a big year for me putting a lot into my education," she said. "There is so much talent, not only in our salon, but around town."
Both women expect their achievements will allow them to take their services to the next level at EM and welcome anyone who wants to come in to try something new.