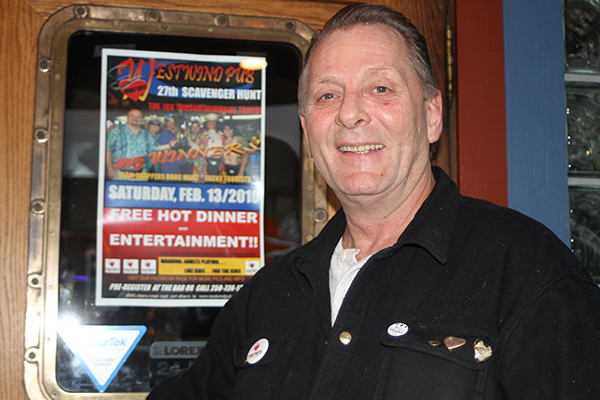 This is Joe Roodbol last year promoting the event, and he is back at it again this year. Sign up soon, the hunt hits the street Sat. Feb. 11.
February 3, 2017 - 2:03pm
Joe Roodbol has been taking part in the annual Variety Club scavenger hunt for 28 years and is urging new participants to experience the popular fundraiser. This marks the third year of the long-standing event to be held at the Westwind Pub and the annual fundraiser always puts the FUN in raising money for the charitable telethon.
This year it takes place next Saturday, February 11.
When he first got involved as a participant in the scavenger hunt in 1989, Joe remembers it being organized by local bartenders. Teams of friends and family were given lists of items to locate all over town and had to collect pledges. Only a few things have changed but the amount of fun had by everyone involved remains consistent.
For the past few years, participants have been raising money prior to the event so they can focus solely on the challenge during the day and a social into the evening. When teams arrive at the Westwind Pub in the late morning, they are given a list of tasks and items in an attempt to cross them all off before returning on time.
"Lyle (Pitts) made a list of 25 items and things to do at various places," Joe said. "If they can't find the original item, they can improvise. Then they are judged on how accurate they are and the team with the most points is declared the winner."
Some of the items last year included a large envelope with the Macmillan Bloedel logo on it, a black plastic rattail comb, a pre-2015 Superman comic, and a bag of marbles in a drawstring bag.
"Where the heck do you think you'd find a rattail comb," Joe said. "We found a pink one and got half marks. If anyone found marbles of all different sizes they got bonus points. It is wild and the scavenger hunt is very competitive. You can understand if you have a competitive spirit, everyone wants to win."
When they return, participants are treated to a hot buffet, entertainment, and dancing.
"That is their reward for all of their fundraising because it has become such a big effort in this day and age," Joe said. "We want to thank them with a hot meal and a lot of entertainment."
The winning team receives recognition on a perpetual trophy, which has recently been returned for display at the Westwind Pub.
"It is the Irv Wilson Memorial Trophy, which has become highly sought after," Joe said. "Irv was one of the very first people in the community to form a team and a very huge supporter of Variety."
Also on the wall of the pub are photos from previous years. If you want to get inspired to get involved, go check it out, and while you are there, staff can help sign you up with your team. Start thinking about costumes, themes and last minute fundraising.
New recruits are needed to make the event successful for years to come.
For more information, check out the Facebook event or call the pub at 250-724-1324.