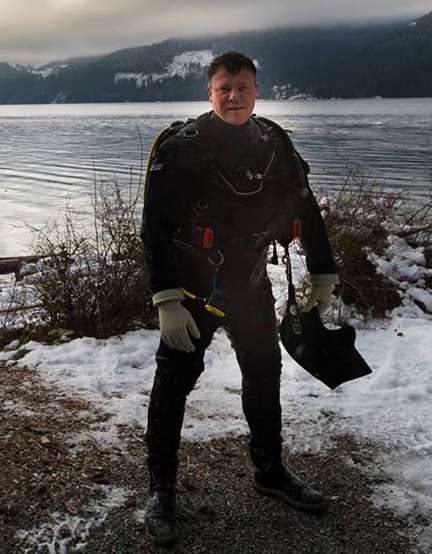 Shawn Standley in his element, just out of a dive in local waters.
January 17, 2017 - 10:50am
Shawn Standley recently launched a new scuba dive business with a soft opening and is now ready to help create a flourishing dive community right here in Port Alberni. After helping his wife, Rebecca get her business, Full of Beans, off the ground, he decided to go with his passion for both business and personal reasons.
Shawn has a long history of scuba diving behind him. He started at the age of 16, and at 19, he jumped on an opportunity to head to the sun and sand.
"I met someone who filled my dreams with the Caribbean so I became an instructor and moved," Shawn said.
He spent six months in the Cayman Islands and another three months in both Fiji and Australia.  In 1994 he moved back to Victoria to complete a nursing degree. With that, he spent 12 years in the military and served in Afghanistan two times. Now, as a former military officer, Shawn has PTSD and recently left the local corporate world to focus on the things that are important to him. He said diving, as well as playing hockey and joining the theatre, has helped with the healing process.
"A big motivating factor was my son who is now old enough to dive," he said. "I want to introduce him to the underwater world and it is something we can do together."
With more than 300 dives under his belt and instructor certification on his resume, Shawn said the activity is relaxing and calming.
"It is a thrill for me," he said. "It is so silent and a good place to destress. I love bringing students underwater and see them experience it for the first time. I get to experience it for the first time all over again with them."
Shawn said he enjoys the variety of west coast diving. He can either drive ten minutes to China Creek and do some shore dives with just a short swim out or take his 23 foot  Bayliner further to explore more of the Inlet. Some of the living creatures he swims around include ling cod, large coral, seals and sea lions, sea cucumber, octopi, sea urchins and anemones.
"There is so much out there that people don't have access to," Shawn said.
That is why he is creating that opportunity. He sees Port Alberni as a niche market with some of the best cold water diving in the Barclay Sound. He wants to be able to teach people everything they need to know to be able to confidently take to the waters on their own or as part of a group. Ideally, Shawn said he wants to grow a community of like-minded individuals who can take part in dives together, complete with fresh meals cooked on the shore after.
One of key things he stresses to his students is to have respect for the environment.
"We are guests there," he said. "We don't belong there and we need to respect what we are seeing and not disturb the habitat. It is so fragile and we really need to respect that."
For more information on his venture, check out Caviar Dreams SCUBA Instruction and Dive Charters on Facebook.