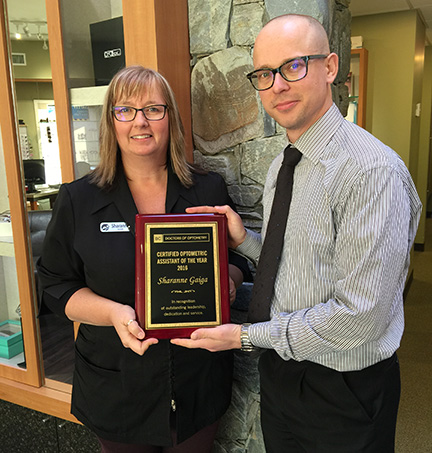 Dr. Golemba of Valley Vision Optometry presents Sharanne Gaiga with the Certified Optometric Assistant of the Year award.
Commitment, dedication and a love of her job has earned Sharanne Gaiga the first-ever Certified Optometric Assistant of the Year award. Despite overcoming challenges, the Valley Vision Optometry employee stuck with her career for more than 24 years and continues to wake up every morning happy to go to work.
Born in Saskatchewan, Sharanne and her twin brother have three other siblings. The large family initially lived on a farm until they moved to an urban area. Her mother continued to stay at home with the five children and her father opened up a shoe store.
"Hence my love of shoes," Sharanne joked.
As a twin, Sharanne said she experienced the typical similarities with her brother.
"When we were sick, we were always sick at the same time," she said. "When I was in labour, he experienced excruciating pain."
In 1975, the family moved to Port Alberni where her father got a job at the paper mill. When she finished her schooling at ADSS, Sharanne moved on to North Island College to complete the office administration and medical office assistant programs. She was quickly hired as a co-op student and worked at the newly-built vocational campus. From there, she took a sick leave position at the Canadian Mental Health Association until the start of her career in optometry at the office of Dr. Stickle in December 1991. At the same time, she was busy raising her daughter as a single mother.
Sharanne has been through the transition of office locations, new ownership and an incredible amount of technological advancements. She has also beaten cancer – twice.
In 1997, when her daughter was nine years old, Sharanne found a lump on her breast.
"I was stunned initially," she said. "I was only 29 years old. It was very fast moving and aggressive."
Diagnosed on a Friday and in surgery for a complete mastectomy on Monday, Sharanne did not have a lot of time to react to the news. After that she endured 20 radiation treatments and six rounds of chemotherapy.
"Dr. Stickle told me to take however long I needed and I did take the time off to get better," she said.
After hearing from her first oncologist that her prognosis was only another two years of life, she took a positive attitude approach to the disease.
"The next oncologist told me that no doctor can give you a timeline," Sharanne said. "I knew I had a daughter to raise. I had a positive mindset and said, 'This is not something that is going to take me'."
Sharanne received support from both her family and colleagues and changed her lifestyle to include prayer, meditation and healthy eating. Up to this point, she had beaten cancer, but 18 years later, it returned. Last summer, Sharanne discovered the cancer had metastasized to her bones.
"I was having intermittent bone pain so I ordered a bone scan and found out that it was in every bone in my body," she said.
Tests found an abnormally high protein level count in her blood. The normal range is between 30-40. Sharanne's measured at 202.
She is currently on a management regime of oral chemotherapy, an IV bone builder, supplements and a continued healthy lifestyle of proper nutrition and exercise. Her protein count now sits at 24.
The only time Sharanne took off work this time was for medical appointments and said she loves her job too much to take leave. She has multiiple roles at Valley Vision, including Vision Therapist, Optometic Assistant and Contact Lens Specialist. She always jumps at the opportunity to learn new things in the industry and until two years ago, was the only therapist on Vancouver Island working with children on vision therapy. In the past year, the clinic has added a remote "GoToMeeting" means of connecting with patients in Port Hardy.
"It is an amazing place to work," she said. "I am fortunate to have had two amazing bosses. Dr. Golemba is very forward-thinking and community oriented. He is all about the patients and how he can help them."
It was her drive and commitment that led Dr. Golemba to nominate her as the first recipient of the Certified Optometric Assistant of the Year award, which he accepted on her behalf at the BC Doctors of Optometry Conference early in February.
"I had no idea," she said. "He announced it at a staff meeting and he was first talking about other awards that were given out and then he mentioned my name. I am so honoured and consider it a life achievement. We are a real team and it doesn't work without all of us working together."
The team at Valley Vision agree.
"We are thankful that she is being honoured with this award," said Anita Sutherland, Director of Operations. We can't think of a better candidate!"