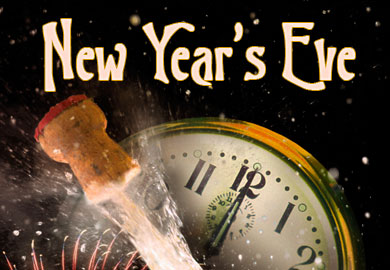 December 29, 2015 - 7:45am
Whether ringing in the New Year at home or out on the town, there is something happening for all ages this Thursday night. 
Parks and Recreation kicks off an early evening with swimming, roller blading and ice skating. The Multiplex opens at 5 p.m. for on-ice games and activities, and both Glenwood Centre and Echo Pool run from 6 p.m. to 8 p.m. The free family event includes snacks and prizes. 
Another all ages celebration will take place at the Bread of Life. The Board of Directors is once again organizing a family-friendly and drug and alcohol-free party. The general public is invited to join in with clients and volunteers. 
"Last year it went over really well and everyone enjoyed themselves," said executive director Dawn McMillan. 
She said there will be free appetizers, games and prizes and this year, dancing. One of the top prizes is a desktop computer. 
It all happens at the Bread of Life dining hall at 3130-3rd Avenue from 7 p.m. to 11 p.m. 
Something new this year is a Sproat Lake heritage-inspired celebration at Drinkwaters Public House. Joe and Della's House Party is the first of its kind at the recently opened venue. 
"This is our first year of operation as Sproat Lake Landing, and we wanted to start some traditions, our New Year's Eve party being one of them," said general manager Chad Toronchuk. "We love the adventurous spirit of Joe & Della Drinkwater and imagined them throwing a big house party for their community, ringing in a year of new adventures to come."
Beginning at 5:30 p.m. the restaurant will be serving its full winter menu until 8:30 p.m. From then until 1 a.m., there will be live music with The Kingmixers, appetizers and champagne at midnight. The Kingmixers, from Victoria, bring lively tunes with vocals accompanied by harmonica, guitar and bass. Those staying overnight at the Sproat Lake in can wake up to a Hangover Brunch from 11 a.m. to 4 p.m. 
The Royal Canadian Legion will be ringing in 2016 with a dinner and dance. Open to both members and non-members, admission includes a light meal and party favours. Entertainment will be provided by the Midnight Rider Band and it all starts at 8:30 p.m. Designated drivers are available within city limits. 
Another dance floor will be ready for more Rock and Roll at the Bavarian Centre. The Elderly Brothers, including members from Howie and the Hot Rods and Rockit 88 will provide the music from 9 p.m. to 1 a.m. and there will be snacks and party favours available, along with bar drinks. Doors open at 8 p.m. and tickets are available through Howie at 250-724-1916, Gerry at 250-724-5134 and Don Kemp in Qualicum at 250-752-3312.
Those looking to rock out to live music while supporting a local cause will want to head over to the Italian Hall. Five Acre Productions, founders of the Five Acre Shaker, is presenting the New Years Circus with The Circus band and guests. 
Following the success of last summer's outdoor concert, organizers are set for a more formal event. Prizes will be awarded for the best costumes that go along with the circus theme. There will be free appies, champagne at midnight and party favours. As with all of the past concerts, proceeds will be going to the Zattzoo Project, in support of local youth music initiatives. 
Tickets are available at Cloud City and doors open at 7 p.m. 
The Port Pub will have a live DJ, champagne and a buffet at midnight and cash prizes for the best and worst costumes. Open later, there will be no cover charge on New Year's Eve. 
The New Year's Eve Bash at Carly's Lounge on Argyle Street will feature Diamond Dog, drink specials and free pizza and champagne at midnight. 
A ticket for entry into the Blue Marlin includes live entertainment, prime rib dinner, midnight snacks, party favours and champagne. 
Char's Landing will be open from 5:30 p.m. to 1 a.m. Charlene Patterson will have it set up as the place to stop in for some refreshments on the way to or from any of the events or it can be the one venue to remain at all night. 
There is no cover charge and party-goers are invited to bring some food to share with friends. Patterson also encourages people to bring music for dancing or jamming. Free overnight parking is available, as well as rooms for rent so there is no need to drive home. 
Whatever your plans, have a safe and happy New Year's Eve. 
Similarly, the Rainbow Room will be open to drop in from 8 p.m. to 11 p.m for a customer appreciation drink and will be open until the wee hours of 3 a.m. 
Have a safe and happy New Year!