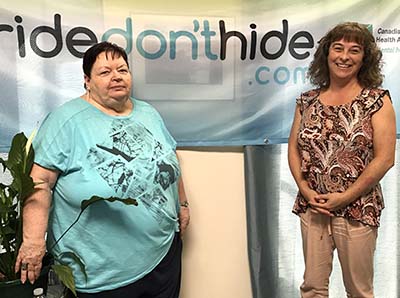 Bev Nielsen, left, and Katrina Kiefer, are all set to host the Ride Don't Hide fundraiser at Bob Dailey Stadium on Sunday.
Katrina Kiefer is the new face behind the Canadian Mental Health Association. When former executive director, Bob Hargreaves, retired in December after 17 years, she took over as acting ED until April, when she accepted the permanent position. She comes with 30 years of experience in the field, including her local position as the Clubhouse manager.
"I am very passionate about this organization," Katrina said. "I purposefully came because of the work it does in mental health."
She knows the community has a high poverty rate, which contributes to some special challenges.
"Some of the challenges we see are the low vacancy rates for low income housing, addiction, substance misuse issues, and the opiate crisis," she said.
To help compensate, the CMHA offers 11 different programs and services, as well as 102 housing units.
Katrina's passion goes back to her own experience and is working to eliminate the stigma of mental illness.
"It goes back to my childhood and my lived experience in my family with mental illness," she said.
For that reason, she wants to promote wellness in the community. One of the ways is through the organization's only fundraiser: the Ride Don't Hide cycling event. She will be at Bob Dailey stadium this Sunday but thinks it will be different from her very first event.
"I rode with one of our outreach workers and he took us off-course," she said. "We ended up riding a lot farther than planned. But I loved how the community came out to support it. We are working to breakdown the stigma of mental illness and how we normalize what we do and how we all need help."
To do that, the CMHA has a relaxed, open door environment.
"We don't have clients, we have members," Katrina said. "We are all just one big circle of community here."
That community includes peer support. Bev Nielsen has been a peer support worker for the past 17 years and knows the organization well. She helps not only members with mental health issues, but their families.
"If they need housing, food, or advocacy, we can point them in the right direction," Bev said. "It is very rewarding because we can really help people. Sometimes someone will come in really tense and anxious, but we can get them calmed down and on the right road."
She said it is all about providing a safe, nonjudgmental atmosphere.
"I always have a listening ear and the coffee pot is always on," Bev said.
"We are front and center by offering our programs instead of being behind the back door," Katrina said. "In my 30 years I have seen a big shift in lowing the stigma, but it's not perfect yet."
That is how the annual Ride Don't Hide event helps. It is family-oriented, with something for all ages and levels. There are three different routes around town, including 4km, 8km, and 32km rides starting at 9am. The stadium will be set up with activities for children, including games and bubbles from 10am. Even if you don't ride a bike, you can sign up as a virtual rider to collect donations or donate to a participant online.
To find out more, go to http://ridedonthide.com/bc/ride/port-alberni/ and to learn more about the CMHA, check out their Facebook page.