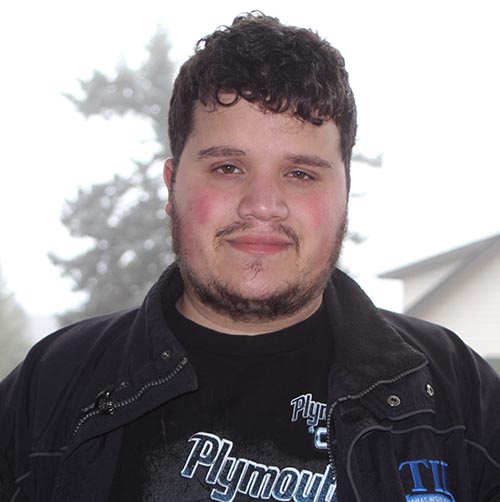 Cameron Stefiuk stood in front of Council last night to state his views on the proposal to change the name of Neill Street.
January 24, 2017 - 1:03pm
Last night's City Council meeting was one resident's chance to share his opinions on the high-profile and controversial issue of renaming city streets.
Cameron Stefiuk has publicly taken a stand against Councillor Chris Alemany's request to pass a motion to rename Neill Street, named after Mr. A.W. Neill, in hopes it would help eliminate racism and discrimination in the community.
For Stefiuk, it is not only a matter of the dollars spent, but "fairness across the board". He first came to light on the issue when he heard the news leaked on 93.3 The Peak and started to discuss it with family members. He said his first thought was about the amount of money it would take and said it would be a "huge example of a broken system".
"I am passionate about this for a number of reasons," Stefiuk said. "I have always been interested in government and the number one reason is I see it as a big waste of money. I am not First Nation but I see kids in my generation receiving retribution benefits and it creates an unfair playing field for everyone."
He said an example was a friend in high school who received a cheque for his academic success and thinks the solution is not to forget history, but to move forward.
"Right now I can't fish and hunt unlimited," he said. "How is that fair? We need to live in a fair society where everyone is on an equal playing field."
He agreed with Councillor Denis Sauve, who said there are more local streets that probably have racist connotations.
"There are tons of streets we could change," he said. "It would never end. There are not many people around who would remember A.W. Neill. If people bring up the fact that their great, great grandfather was abused at a residential school, I could do the same with mine who fought in the war, so where is my retribution?"
Prior to last night's meeting, Stefiuk was out gathering signatures on a petition against the Neill Street name change and admits to being labelled a racist.
"I was called a racist and spit at but there were also people who bought me coffee and called me a hero," he said. "Some of those who congratulated me were First Nation people and they agreed with me that it paints a false picture of people who have worked hard to be where they are today."
At the meeting, Alemany cited Mr. A.W. Neill as one who championed for a ban on all non-European immigration to Canada. He said the issue spanned to include not only equality for First Nations, but for Chinese and Japanese citizens who were subjected to discrimination in the past. For Alemany, the issue goes further than renaming a street sign. He said he sees it as "actively rejecting racism".
Alemany also agreed that it would not have to happen immediately and would be good to consider after community input.
"I don't think (Councillor Alemany) did represents the best interest of the community and that is what he was elected to do," Stefiuk said.
For now, Mayor Ruttan presented a motion to have city staff bring forward a report for Council's consideration to allow the community to have input and participation, including that of Hupacasath and Tseshaht First Nations councils and residents living on affected streets.
Stefiuk said in the interim, he will wait to see what happens.