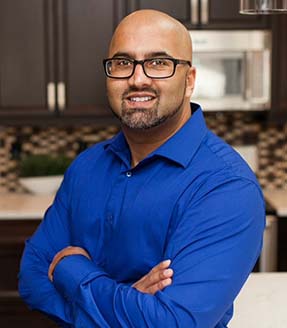 Well-known on the local real estate scene, Dave Ralla was born and raised in Port Alberni and is proud to call the community home. Now he is selling homes here and is enjoying a successful career and family life, which he credits to a lot of hard work.
Raised by Hap and Surjit Ralla, Dave was exposed to family traditions, sports, and community involvement while growing up. He has carried those experiences with him through adulthood and is happy to be able to pass them on to his own children.
After graduating from ADSS in 1990, Dave started working at Somass Mill, where he remained for a few years. He met his future wife, Terien, in those early years and the two have been married for fifteen years.
"Terien is by far the best thing that ever happened to me," Dave said. "She is a phenomenal wife and even better mother."
In 2004, the two moved to Nanaimo where Dave started a job at Future Shop as a sales associate in the home theatre department. He worked his way up to a product expert and left the industry as a department manager in 2007. By then, the couple had two young children, Davin and Mya, and decided to move back home to Port Alberni.
"There is no better place to raise a family then Port Alberni," he said.
As a parent, Dave said he has taken what he has learned from his own upbringing to pass on to his children.
"The main things we teach them are manners, respect, and compassion for others, being accountable for what they do, and that school is very important," Dave said.
He also ensures he balances his time to help coach Davin's soccer games and stays on the field to watch Mya play.
The year the family moved back to Port Alberni, Dave began a new career with Remax as a real estate agent and has been with the company ever since. The freedom of self-employment works with his lifestyle, but he said he is also grateful for the support he receives.
"I owe a lot of my success to the office staff who helped me out at the beginning and continue to today," he said. "They have helped me get where I am."
Dave remembers clinching is first deal and the feelings that came with it. It was a small home on 14th Avenue.
"I was nervous, but the best part is always when I can see both the buyer and seller happy and hand someone over their new keys," he said. "It is a life-changing decision."
From there, his first real break came from Jay and Tonielle Bradbury and their friends Jamie and Candice Dods. Both sets of homeowners put their trust in Dave as a new person in the business with a  house they were building on 32nd Ave. Their relationship has grown over time with multiple transactions and they've become great friends.  Dave is excited that Candice will be joining his one-man team as a buyer's agent in the very near future. She will bring along the same family values, work ethic and personality that has made Dave successful.
Dave also ensures he has other professionals to work with to keep his website up to date with photos and video tours.
He believes innovation is key.
"You have to keep up with social media," he said. "About 92 percent of people looking for a house go online first before contacting an agent."
Dave's dedication to his prospective clients and the hard work he puts into his job recently earned him recognition from the Vancouver Island Real Estate board. Last week, he was presented with a sales achievement award for his $9,000,000 worth of property transaction in 2016.
A large part of Dave's motivation also comes from his desire to give back to the community and he has continued to do so by sponsoring the Alberni Athletic Department at ADSS, as well as local charities and his family's church.
Outside of work, Dave enjoys taking family stay-cations, going to Vancouver Whitecaps games, and hitting the beach in Tofino.
Check out all his latest listings on his Facebook page.