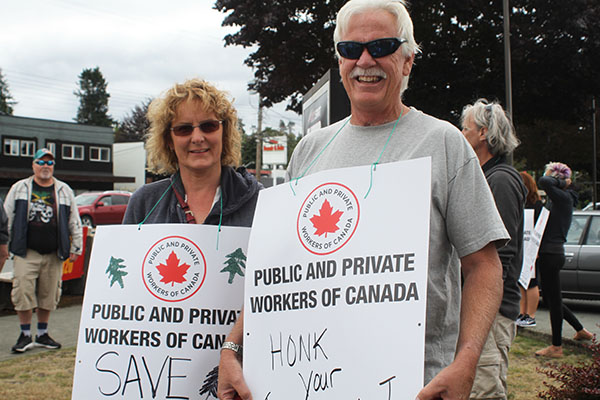 Brenda and Don Frew came from Nanaimo to show their support of a sustainable forest industry during a rally Friday on Johnston Road.
A collaboration of forestry workers and environmentalists took to the streets today in an effort to fight back against provincial raw log exports. Organized by the Public and Private Workers of Canada (PPWC) and the Ancient Forest Alliance, the rally attracted a number of supporters both for the walk up Johnston Road and by honks from those driving by.
Organizers hope the rally keeps the momentum going since the last one in Duncan a few months ago.
"We want to bring attention to the government," said PPWC president Arnie Bercov. "They are exporting 60 per cent of second growth logs and exporting the future of young people."
Bercov said Port Alberni is the epicenter of the industry, was built on forestry and is now threatened because of mismanagement.
"I blame the provincial government," Bercov said. "We will run out of old growth and have no second growth. We need to find a way to integrate First Nations. They need to ban the exporting of logs, it's as simple as that."
Vince Lukacs, national representative with Unifor 592, agrees.
"We are exporting six to seven million cubic metres of wood fibre a year to foreign mills," Lukacs said. "That is enough to run several mills. There has been a significant reduction in the number of mills operating in BC and this province was built on the forest industry. We're exporting instead of doing it ourselves."
In his position for the past 12 years, Alberni-Pacific Rim MLA Scott Fraser has been to many similar rallies.
"Even though a lot of mills have closed down, this is still one of the largest industries in the province," Fraser said. "LNG is a wonderful thing but it's a dream for the future. The jobs are here and we need to protect them."
Fraser said it is not a coincidence that there has been a ten-fold increase in raw log exports in the last ten years and a dozen mills shut down. He said it is a concern for laid off workers.
Representatives from the Wilderness Committee were at the rally, stating the forest industry in BC exports the most raw logs out of all the provinces, while creating "less jobs and revenue for every tree cut than any other province."
Torrance Coste of the Wilderness Committee said on Facebook, "Raw log exports in BC have gone far enough. It's time to put an end to this job killing practice."
The rally culminated with speakers and a barbeque at Victoria Quay.