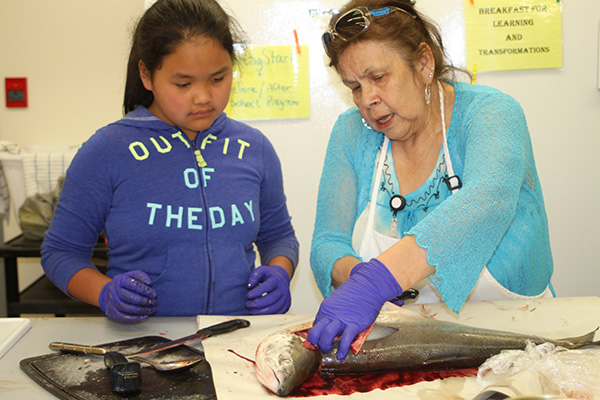 Jean Thomas shows E.J. Dunn student Hunny Lucas how to cut and clean a salmon for canning. The fish will be used for the school's potlatch in June.
This week Jean Thomas brought some of her own culture and experience into the classroom at E.J. Dunn Middle School. That is nothing new for the Nuu-chah-nulth Education Worker, who regularly teaches students about First Nation language, history and traditions. This week, a handful of Grade 6 students had the chance to take part in all the steps of canning salmon.
As the eldest of 15 children in the household, Jean took on a mother-figure role at an early age. Her mother was busy working as a housekeeper and her father took on several jobs, including ones as a longshoreman, boom operator, commercial fisherman and bus driver, from which he retired.
"My oldest brother and I played a significant role in raising our brothers and sisters," Jean said.
One of the things the family did together every year was preserve food for the winter. They often had an abundance of berries, deer meat and fish from the summer, which they relied on for sustainability in the winter.
"We grew up mainly on deer meat and fish," Jean said. "And guess what I don't like to eat now!"
Jean was taught to can salmon from her mother at the age of eight and to smoke it by nine. At that time, their home did not have electricity nor plumbing, so it took place outside.
"My dad made a big hole in the ground and padded it with rocks to continually keep the fire going," Jean said. "We had to keep the wood on the fire and turn the pot so it was getting heat on all sides."
It took about four hours overall and supplied the family with an abundance of fish for the winter.
When she was 16 years old, the home was equipped with electricity and plumbing, but the family continued to conserve out of habit.
"We still put out candles and lanterns and did the laundry outside," she said. "My dad said we should be careful since we were paying for it."
They continued to prepare, smoke and can outdoors with a propane stove which made the job more efficient. Things were brought inside when Jean was 19, but by then, she was off to vocational school in Nanaimo.
To this day, Jean still does a lot of canning, but gives it all to her three grown children.
When she recently received a donation of 40 frozen salmon from the Tseshaht First Nation for the school's potlatch in June, she decided to use it as a learning opportunity. On Tuesday students were invited to take part in the process and learned how to properly cut and clean the fish.
Once they opened it up, students were shown the heart, liver and eggs that were in a few of the fish. They took off the head, tail and gills, then scraped off the scales. Jean said she normally takes the bones out, but if not, vinegar can be added to the jars to help them soften and disintegrate.
Some of the students had already learned the process at home, but for others, it was their first time. Hunny Lucas said her family goes fishing for salmon every summer and has helped with the canning process.
"Cutting off the head is the trickiest," she said.
For Billie Jack, it was her first time, although she has watched her mother can at home.
"It was fun and I learned how to cut the fish," she said.
Before the potlatch, students will also be making gifts to give to guests. The chiefs of both the Hupacasath and Tseshaht First Nation territories, elders of Rainbow Gardens, the school board trustees and the mayor will all be invited and Jean hopes to include Haa-huu-payuk and the Bamfield Community schools in the ceremony.
"The potlatch will be used to introduce the community to the new K to Grade 5 classes here and to say farewell to French immersion," Jean said. "It will be a very sacred ceremony we'll be doing with songs and dance."
Jean expects to finish canning all three dozen jars in the next week.