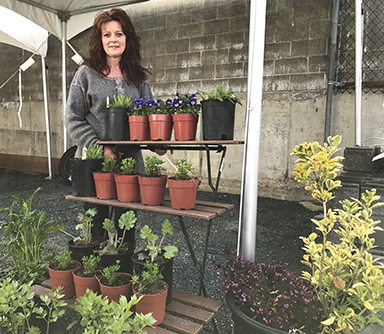 Marie Knoll is set to open up the second season of the Uptown Urban Market on Second Avenue
When you love what you do, it shows, and you are inspired to give even more. That is the inspiration behind Marie Knoll and Keith Ambrose 's Uptown Urban Market. Ready to open up for its second season next Friday, the two are able to offer even more this year after the success and community support last year. Their hope is to add some positive vibes that will have a domino effect throughout the Valley.
The market, located at the top of 2nd Avenue, is an initiative based on a small "mom and pop" type of business concept, except with a healthy spin. Instead of chips, pop, and Twinkies, market-goers can expect to find local and Island-wide produce, herbs, plants, cheese, meats, honey, baked goods, chocolate, preserves, eggs, and more. There are also local crafters and artisans signed up to sell their hand crafted items. All of this comes at no cost to the vendors, which is part of Marie's concept of community development.
"For example, when our egg suppliers bring their eggs, we pay them $4.50 outright and sell them for $4.50," she said. "We will label and sell them as our service. It is a hard concept for people to grasp. Whereas people are always looking for the bottom line, we want to bring something positive and build something stronger and long lasting."
Marie hopes that by planting good intentions, the idea grows naturally, similar to what she has been doing year-round. Her home-based business, Back to Basics, consists of her own line of essential oils, herbs, spices, and plants. This weekend she will be showcasing her new anointing oils at The Shift – Spirits of Heart Holistic and Metaphysical Fair in Coombs. They are designed to be used for ceremonial, medicinal, and spiritual healing practices.
"I am excited about that," she said. "They are rare oils I brought in from the middle east."
Apart from the seasonal outdoor market, Marie is able to offer her products, as well as those of others, particularly ones with a shelf-life, from their newly expanded mini warehouse. It is equipped with a large cooler and freezer to accommodate cheese makers, meat producers, and coffee roasters.
"Now the vendors can stay year-round and that is something that benefits everyone," Marie said. "They are happy about having a location in town that they can send their customers to."
The market is welcoming new vendors this year, but because of the small area, there will be a core group on-site and the others can have their products available for sale without having to be on location.
"We will be able to put out a lot more products on the tables," Marie added.
Marie and Keith have also expanded the weekend of sales to include Friday, Saturday, and Sunday. To remain green, they are offering coffee in regular mugs which can be taken, returned, or donated back, and paper bags donated by Quality Foods. They also encourage customers to bring reusable fabric bags.
"Fridays are all about the food," she said. "We are calling it Food Friday. Saturday will have food and art, and Sunday will be all for the artists. I noticed that on Sundays there are always a lot of families out walking in the area."
She said she enjoys the simple life and sharing this way of living is what makes her happy.
"It is an old concept but people are craving it," she said. "I had a child walk in and she said to her mom, 'This place makes me feel happy'. That is the kind of positivity that will spread."
The Uptown Urban Market is located at 3135 2nd Avenue and open Fridays from noon to 6pm and Saturdays and Sundays from 10am to 2pm. Catch the opening day on Friday, May 5.