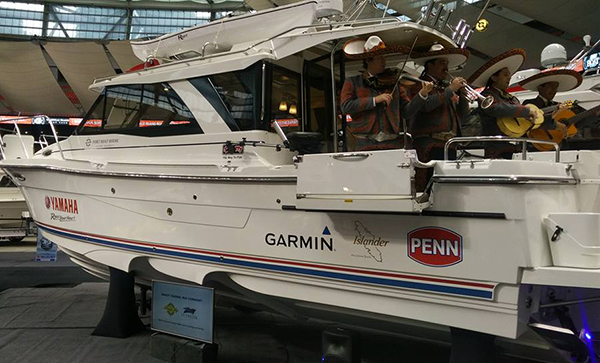 Port Boat House unveiled something new at the BC Boat Show in January, compete with Mexican band and appies.
February 7, 2017 - 2:29pm
The staff at Port Boat House recently returned from the largest boat show in western Canada and are gearing up for the boating season. The five-day show at BC Place Stadium at the end of January was a good introduction to new offerings this year and a chance for the local shop to unveil a big surprise.
Port Boat House was one of many vendors covering the floor of the stadium and had 19 boats on display, the most in owner, Mike Hudson's ten years with the business. Of them were some Ranger Tugs, Cutwaters and North River aluminum boats. Some were prepped and sent to the holding yard by trailer or barge and lifted by crane to the stadium floor, while others arrived directly from the factory. Mike said it was a long three days of setup.
The show itself ran five days from January 18 to 22.
"This show is the second largest footprint in terms of representing boats and the largest in western Canada," Mike said. "There were several hundred booths with accessories and displays on the upper level. We worked 12-hour days."
As the exclusive dealer of Ranger Tugs, Cutwater, and North River, the staff came up with an innovative way to reveal a new boat in their inventory. It was a Cutwater 30 Coupe, with a live Mexican Mariachi band on board.
"We had it covered with a tarp and made an announcement that a new product would be unveiled," Mike said. "We decided on a Mexican theme and have it fun and festive. We had people serving Mexican appetizers along with the entertainment. It was really well-received."
It was also a chance to sell boats, and Mike saw an increase in that, too, over last year.
"These shows position us well in the boating industry," Mike said.
Their customer base is mixed, with boat owners being interested in both fishing and cruising.
"We are selling all over B.C. and mainly for salt water," Mike said. "But big this year, and new for us, is the Suncatcher Pontoon. It's a deck boat with seats and couches and is great for Sproat Lake."
Other people loyal to Port Boat House live out of town and have their boats stored and maintained here for use on local waters.
From now until the end of April, the staff will be heading to four more boat shows, including one in Nanaimo, two in Victoria, and one in Abbotsford.
Closer to home, the store is also a major sponsor of the upcoming Winter-Spring Sproat Loggers' Derby at Poett Nook Marina on March 4-5. It is a kick-off to the fishing season for many enthusiasts and allows boat owners to dust off their boats and put them in the water for some fishing.