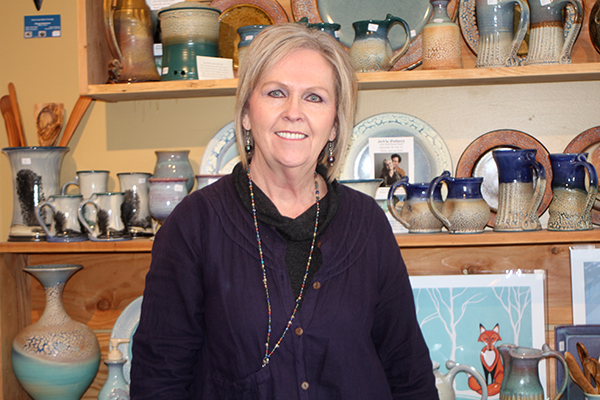 Carol Vandenhoorn at Blue Fish Gallery, where she can be seen everyday during shop hours.
February 17, 2017 - 2:51pm
You might know her from her excellent customer service at Boutique Belles Amies or Blue Fish Gallery, but Carol Vandenhoorn has been in and around Port Alberni all her life.
Born in the first hospital where the RCMP building is now located, Carol was raised in Beaver Creek by Dutch immigrant parents. They married in Holland but moved here in 1952 after the war in search of a better life. The family, with five children including Carol, bought a hobby farm and it was a busy, but fulfilling, lifestyle. Carol would attend school and return home to help with chores outdoors and in the home.
As a child, Carol learned to speak Dutch and is still fluent in the language today. Her parents were self-taught English learners and by the time she was school-aged, English primarily took over Carol's upbringing.
"We continued to speak Dutch in the home a bit, and it is something you never forget when you are taught at a young age," Carol said.
Carol attended Beaver Creek Elementary, A.W. Neill School and ADSS. After graduation, she and her sister went to Holland for the first time to work for a year in a senior citizen home.
"That was our adventure," she said. "It was a great year to work, but also to meet all of my family. My parents are both from large families. My father had 13 siblings and my mother had 11 and in total there are over 100 cousins."
In the meantime, she had been writing letters to Rolland. He, as a fellow Dutch immigrant, had been invited often by Carol's mother to join the family for dinners before the trip. When she returned, the two were engaged and married in 1974. Together they raised four children and now have six grandchildren.
Carol was a stay-at-home mom until her kids were older, and then she filled the gap by providing respite care for one girl for 12 years. She watched her grow into a young lady from the age of three to fifteen.
"I loved it," Carol said. "It was very rewarding. She was a fun kid. She couldn't speak but understood everything."
After that, Carol decided to look into the workforce. It was more out of a desire to do what she wanted and something she enjoyed than out of necessity.
She attended a 14-week course in back-to-work preparation through INEO Employment Services and found success from the program's support.
"It was great," Carol said. "You do assessments to find out what you're good at and what you enjoy."
Carol realized she wanted to do something fun and rewarding and work somewhere that she could use her creativity.
"You have to go after what you really like," she said. "I was looking specifically to work for small locally owned shops."
She found everything she was looking for in both of her recent employment opportunities.
"I applied at Boutiques Belles Amies and Linda (Bowers) hired me," Carol said. "I was there until the end of last year.
Then she approached Cheryl Iwanowsky since she had always liked the gallery and offered any help she needed. She is now there full-time doing a bit of everything but has found a niche setting up displays of works from the various artists.
"I have fun with that," she said. We highlight different artists and they are noticeable when large collections are displayed together. I start with one focal point in the display and work around that. I use a balance of colour and visual interest."
Currently on display is a collage of west coast pieces, including seaside prints, starfish, glasswork, and shells.
Carol said she loves serving the customers, who are a mix of locals and tourists.
"It's my happy zone here," she said.