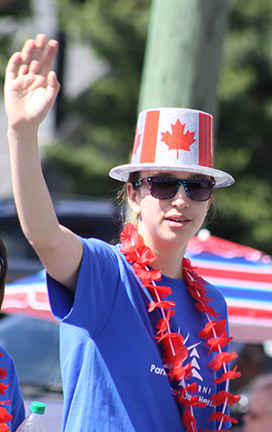 Canada Day will be abuzz with activities and a variety of events celebrating our nation's 150th.
One thing Bill Collette knows as the executive director of the Chamber of Commerce is how many events are hosted in Port Alberni and how many of those have the potential to attract visitors to the community. That is why his latest project will soon be hot off the press.
"Port Alberni: The Iconic Place to Play" is a new full colour event book featuring some of the major events happening in town from June through December. It will be distributed to tourists at the Visitor Centre and at hotels, motels, B&B's and gas stations. Locals can pick up a copy at any of those locations as well, and you might even see someone's photo you recognize taken by some talented local photographers.
Bill is full of great ideas and is quick to put concrete plans to work. When he thought of putting these community events into print form, he quickly got the ball rolling.
"The Chamber of Commerce is really keen to help promote all of these events," he said. "There are so many and we want to see everyone at them. This is going to be a high quality magazine format featuring every type of event imaginable in the community."
There is something for everyone from summer to winter, from sports events, music festivals, and cultural events. There are long-standing traditions like the Salmon Festival and Fall Fair, as well as new launches, like the first-ever Tri-Conic Challenge.
"Some of these events have been going on for decades and continue to do so well," Bill said. "Then there are new ones like the Outrigger Races in its second year and the Tri-Conic Challenge happening on the Canada Day long weekend. It is nice to see new events come up and the old ones returning every year."
He mentioned the Sproat Lake Regatta as one of those with history. It was started by Joe Van Bergen in the 1950s when thousands of spectators descended on Smith's Landing to watch the high speed boats. The Alberni Valley Regatta Association was then created a few years ago by Ray Nass and others to bring the event back to the water, and Van Bergen returned to help just before his 90th birthday.
"Art Wynans is another example who has been involved with the Salmon Festival since the beginning," Bill said.
He said it can be difficult for events to market themselves and he hopes this book does the job.
"We want to see these events grow, prosper and attract more visitors," he said. "That is the goal and we did this at no charge for the event organizers."
Watch for the magazine in time for Father's Day at McLean Mill.