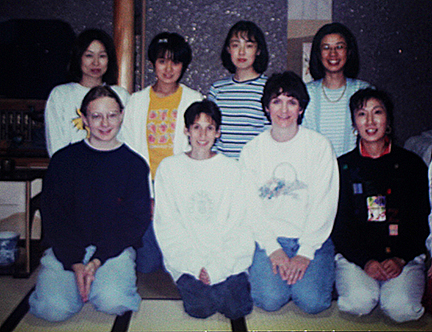 In front, from left, Kama Money, Kristi Dobson and Laurie Morphet with their friends from Abashiri following a tea ceremony on July 7, 1996.
For more photos from Laurie Morphet of a student trip to Japan in 2014, see links at the end of the story. 
Thirty years ago the cities of Port Alberni and Abashiri, Japan, signed a declaration to become Sister Cities. At the time, Gillian Trumper was mayor and a delegation, including the Mayor of Abashiri, the late Tetsuo Ando, arrived in Port Alberni for official ceremonies. It was 1986 and that summer, 80 students and 12 adult chaperones participated in the first exchange trip to Japan. Since then, numerous children, youth and adults have experienced the unforgettable hospitality of their new Japanese friends in Abashiri and some have returned on multiple trips. Interest over the years has waned and organizers hope this anniversary sparks interest to keep the ties of this relationship strong.
To mark the occasion, visitors from Abashiri will arrive in Port Alberni on Saturday, July 16 and the Consulate General of Japan from Vancouver will be here on July 18 for the signing and Sayonara dinner. Opportunities for the public to participate include a train ride to McLean Mill on Sunday, July 17, leaving the train station at 10am (train ticket purchase required). The Sayonara Dinner will take place on Monday, July 18 at Chances RimRock. Tickets are $33 and must be purchased in advance.
Dave Grant has been involved with the Port Alberni International Twinning Society since its inception. He remembers when he and his wife, Doreen, hosted their first homestay for six months when he was the principal of Cherry Creek Elementary School. He also travelled to Abashiri as a group leader in 1986 and hosted about twelve individuals in his home since then.
"I have very fond memories," Dave said. "The first time I went in 1986, we were treated like royalty," he said. "The people in Abashiri have always been actively interested in having their kids come here."
Originally the school district arranged for the students to exchange cultures and build friendships through the partnership, but soon, the Economic Development Commission took over, with Janet Schlackl at the helm, as the potential for increased business between the two cities was evident. The program expanded with the opportunity for recent university graduates to spend one year teaching English in Abashiri. That was Sherri McKinnon's first experience living in the city, but her ties to Abashiri go back to the beginning.
"My family was involved since the first delegation in 1986 when an 11-year old farm boy stayed with my family," Sherri said.
She then had the chance to live and work there in the early 1990s and has returned several times. Now as the Society's president and teacher of English as a Second Language at VIU, she said it was an invaluable experience.
"My life and career have been deeply impacted by my experiences in our Sister City and it is for that reason that I remain passionate about our Sister Cities," she said.
She has seen the interest grow in Abashiri over the years, as volunteers have organized a Port Alberni Fan Club for raising funds and awareness and created a garden in honour of the Sister City relationship. The city of Abashiri constructed a community centre, which they named Eko Centre.
Now retired, Dave continues to sit on the Society's board and, with the School District's assistance, sees more than just the economic benefits of the exchanges.
"It is very important that the kids get the opportunity to experience different cultures and make friendships with others from different countries," he said. "I remember homestays coming to our house and teaching us how to cook Japanese food. One even gave my wife a gift of a typical Japanese wedding dress that was passed down from his family."
Currently representing the School District on the Society's board, Alberni Elementary principal, Laurie Morphet has also had first-hand experience with Abashiri and Japanese culture.
"Over the last twenty years, I've often been asked why I continue to support student exchanges between Port Alberni and Abashiri," Laurie said. "It all started when my daughter, Kama Money, was thirteen and asked for us to provide a homestay from Abashiri for four nights.  Opening our home to a child from Abashiri was an exciting experience for us all.  Communication was difficult at times but we used translation dictionaries, drew pictures and used gestures when needed."
The following year, both Laurie and Kama travelled to Abashiri and she hopes other students in the Valley can have similar experiences. But help is needed to ensure continuity. The Society is looking for an adult chaperone to lead the next student delegation in July 2017, as well as students from grades six to 11 interested in visiting the city. Ideally the lead adult would be a teacher or someone with experience supervising and supporting students. Partial funding may be available for the chaperone but students are responsible for their own travel expenses. Local host families are also needed for four nights for students arriving from Abashiri in January 2017. Then, there will be an opportunity for an adult-only delegation to visit the city in July 2017.
For more information, Laurie can be reached at lmorphet@sd70.bc.ca.