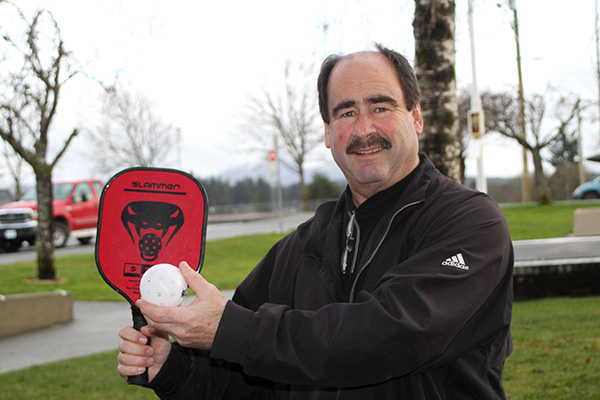 Ron Crema, an avid pickleball player, is recruiting more people to participate in the growing sport.
Have you heard of Pickleball? It is the fastest growing sport in the United States and is gaining popularity in Port Alberni. The racket sport combines tennis, badminton and ping pong and is played with a light-weight wiffle ball.
Ron Crema picked up the sport while in Arizona four years ago. The local snowbird noticed its popularity in the U.S., particularly Arizona, California and Florida.
"I saw people hitting the ball around, mostly seniors," Crema said. "They were excited and there was a lot of camaraderie, so I thought I would try it out and it got me."
When Crema returned home, he decided to garner enough interest to recruit other players and develop courts. He started at Cougar Smith Park on Faber Road.
"Originally the courts there had pickleball lines painted on them, but when it was redone, they didn't put the lines back in so we taped them on," he said.
Still wanting more space to accommodate the players, he approached Parks and Recreation to have the middle tennis court at Gyro Park painted with appropriate lines for pickleball. Around the same time, a large multiuse court was constructed at Slammers Gym and the Sunshine Club applied for and received a grant to have one dedicated pickleball court added to Gyro Park.
Although it is a sport for all ages and levels, pickleball is popular among seniors because it is played on a smaller court and easier on the body and knees. It is also highly social and competitive.
"It is as much, if not more, about strategy than about ability or physical endurance," Crema said. "The strategy is to take control of the 'kitchen line'."
The kitchen line, or non-volley zone line, is the seven-foot line near the net. That line is 6.6 feet on a doubles badminton court, so with only a small difference, it can be played indoors in the winter months.
This Spring, when Crema's fellow snowbirds return from down south, he hopes to start a club. For now, interested group members play three times per week at Alberni Elementary School and hosted one clinic last fall. About 30 people, primarily in the 50+ age group, attended.
"The goal is to help Parks and Recreation and put on clinics for kids to get them started young," he said.
Although Crema and many of the other players have a background in other sports, they are turning to pickleball because it is easy to learn.
"It is also a good way to stay active," he said.
A clinic is being held this Monday, March 7 at 6 pm at Alberni Elementary School for anyone interested in learning more about the sport. For more information or to sign up, contact Susan Chretien at 250-724-3248 or [email protected].