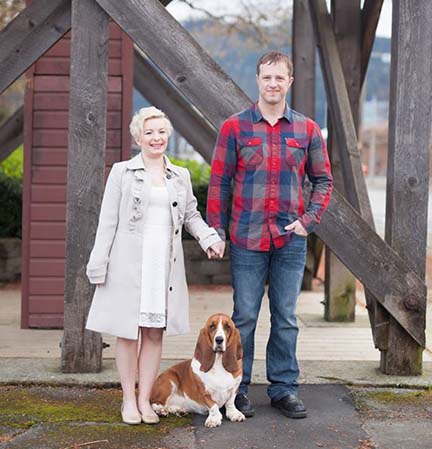 Ellie and Mike Hadley enjoy life together in the Alberni Valley.
On Saturday during the Canada 150 festivities, one local resident was celebrating her tenth year in the country. Ellie Hadley moved to Canada from Norwich in the United Kingdom and made her new home in Port Alberni, where she became involved in the community, got married, and launched her own business.
After completing training and deciding to become a dance teacher, Ellie decided to move to Canada where there were more opportunities to settle in one place, rather than travelling and moving for different temporary jobs. She visited a friend on Vancouver Island and liked what she saw. From there she applied for two teaching positions and chose the one she was offered in Port Alberni. She said it was a move to a city that is smaller than what she was used to but has no regrets.
"I lived a half hour from a big town so I had immediate access to everything, but I like the nice community feel and the outdoors here," Ellie said.
Six years ago she met her husband, Mike, through mutual friends, and the two were married in Qualicum two years ago. It was a chance for her family to get together since she had not had the opportunity to return home until last August.
"It was nice to find someone here I could relate to," Ellie said. "Especially with my family so far away and one day hope to start a family of our own."
The immigration process was long and drawn out, but Ellie said it was a relief to have the signed papers declaring her permanent residency in her hands. Throughout the ordeal, some of her paperwork was lost and some regulations were changed from the time she mailed in her forms to the time they were received by immigration officials. When things were sorted out, Ellie and Mike had been living common-law long enough for him to be her sponsor.
"It was a smooth transition but it is a lot harder than people realize," Ellie said.
There was little fanfare when she picked up her official permanent residency papers in Nanaimo, but in two years she will be part of a larger group accepted as Canadian citizens. She will have dual citizenship and a Canadian passport to be able to travel where and when she wants.
"I will be entitled to vote so that will be nice to have a say in where my taxes go," Ellie said.
After spending her working life in Port Alberni as a dance teacher, Ellie decided to spread her entrepreneurial wings and set up her home-based Arbonne business. She said it gives her a chance to get out and meet other young people in the Valley.
"It is nice to see people support local businesses in a small community," she said.
She joined the Young Professionals Alberni Valley and is responsible for organizing events.
"It is a great place to meet life-minded people in the same age bracket," she said. "The group bounces ideas off of each other and is open to change."
She said living in Canada gives her the best of both worlds.
"I can feel proud of where I come from and still fit in with everyone else," she said. "This is a community where everyone accepts you and helps you grow."
Ellie recognized Canada Day by taking in a bit of everything Port Alberni offered, including setting up shop as a vendor at Harbour Quay, watching the parade, cheering on a friend running in the Tri-conic Challenge, and seeing the fireworks and listening to the Funtastic music festival tunes from here deck.