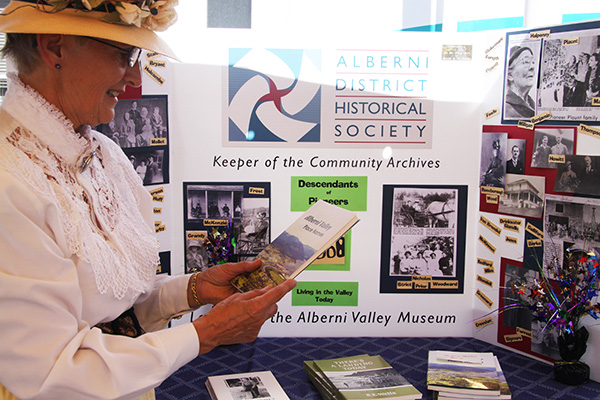 Maxine Munsil, a volunteer at the archives, checks out an Alberni District Historical Society display.
Have you ever wanted to look back on local newspapers of the past? Volunteers at the Alberni District Historical Society Archives have been working hard over the past few years to make that a reality and are bringing the old microfilm to the digital world.
It all started in 2012 when Maxine Munsil started looking into a printer reader. Her mother, Lila Mackenzie, was an avid family historian and charter member of the Alberni Valley Museum and Historical Society and always enjoyed seeing the new information Maxine would uncover in her later years. Maxine found out about a state-of-the-art machine at the Ladysmith archives, the only other place on the Island to have one. Shortly later, a crew of volunteers took a trip there to learn more about it.
"I had started looking at regular ones but then this exciting one came up," Maxine said.
The Board of Directors agreed there was a need to upgrade the way newspapers are stored and through grants, fundraising, and personal donations, the Indus digital scanner was acquired in 2014.
The archives currently have a full collection of 230 microfilms consisting of local newspapers dating back to 1907. They are each being individually inputted into the new database, making searching for historical events much easier.
The process starts with scanning the microfilm and saving it on the new computer. The software automatically creates a database which is searchable by keyword, date or phrase. The search comes back with as much or as little information as the user determines and is easily spotted on the newspaper page by being highlighted in blue. Currently, the newspapers on the microfilm collection can only be viewed, but when all of the inputting is complete, the public can print anything published from 1907 to 1993. It is a repetitious, but interesting process, Maxine said.
"Without the crew of Diane, Mary Anne, Jane, and Joan, progress would be minimal," she said. "They are a wonderful group and work Tuesdays and Thursdays and they all find interesting things on occasion, like prices of grocery items."
Just yesterday, Maxine wanted to look up a former grocery store, entered the name of it, and came up with all of its weekly ads.
"One fellow came in who was a First World War soldier and poet who used to live here," she said. "He sent his poems to the newspaper during the war and when he looked it up, he found it. He was so excited and said it would have taken years to find all of that information."
She also said there were bits of information about locals and the community that are no longer printed these days and gives a peak into the lives of neighbourhoods and families.
The volunteers have been working steadily to get all of the files digitalized but it will still take quite some time.
"We just finished the 26th microfilm out of 230, so it will go on," Maxine said. "So far we have everything up to 1954 on Indus."
She also encourages anyone who would like to support the non-profit archives with monetary donations or old newspapers to contact her at their location in the Alberni Valley Museum or call a volunteer at 250-723-2181 local 267. It is open Tuesday and Thursday from 10am to 3pm.