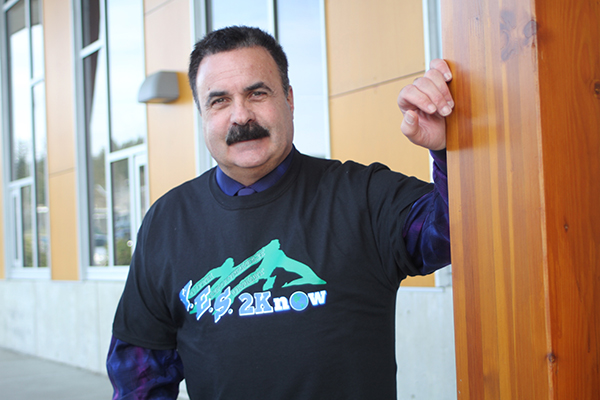 Dave Cusson is gearing up for a convention aimed at drug prevention and invites parents to attend a special evening session.
As a father of three adult children, Cpl. Dave Cusson knows first-hand the challenges both teenagers and parents face in today's society. He is currently gearing up for a powerful two days of sharing tools and strategies that kids can use to make healthy choices and parents can use to connect themselves to their children and to the modern world.
Twenty-two years ago, Cusson was posted to the RCMP in Port Alberni and took on a variety of roles. It was eight years ago that he became involved in something that has become his passion – drug prevention awareness - because he sees concrete, positive outcomes with kids at impressionable ages.
As the drug awareness coordinator for central Vancouver Island, Cusson's role is to create a Community Prevention Education Continuum. In other words, he works not only in the classrooms, but within the community to bring real people to the students to build an ongoing drug awareness strategy.
"My analogy is that if you only get math in Grade 5, how good will you be at math by Grade 12," Cusson said. "It is the same with drug prevention. If you only hear the message once, it only lasts so long. We are working to keep bringing strong prevention messages from different messengers."
The messages begin in Grade 5 with the D.A.R.E. program and work up to Grade 12, at which time, students can participate in an RCMP youth camp. Cusson's project now is focused on the Grade 7 and 8 level and he is working with key stakeholders to bring a convention to the school district on April 5 and 6.
Yes 2 Know will be delivered in two parts to meet the needs of all learners. The academic side will feature motivational speakers for the first half of the day. Gary Anaka will speak about "brain education", Michael Bortelotto will bring the message about social belonging and after lunch, Jesse Miller will focus on online behavior.
"They will have handouts to take the information away with them," Cusson said. "Then we will have a Spark Zone as a fun way to connect to the themes."
Students will also receive a passport with the goal of accomplishing various challenges for a chance to win prizes.
The evening of Tuesday, April 5 from 6 - 9 p.m. is for parents with children of any age. The free mini-convention in the ADSS auditorium will also have speakers, handouts, prizes and refreshments.
For Cusson, his work in drug prevention has become a passion and the faces he has met over the years are not forgotten. Several students have come back to him years later as adults to thank him for saving their lives.
"I had a boy years ago in a D.A.R.E. class whose parents were into the drug world," Cusson said. "He was a child at home seeing the consequences of drugs and both of his parents ended up dying. I lost track of him but always wondered how he was doing. Three years ago, I was playing hockey and he rolls in as a young adult and recognized me. We started talking and he told me that he made it because D.A.R.E. helped him see the right ways of the world and he didn't want to end up like his parents."
That is the view as an officer on the street. He is also a family-oriented parent and recently experienced a full circle with his daughter, now in her mid-20's. He taught her class at Wood School and she became an active ambassador of the program. Twelve years later, he was at the same school when she returned home for a visit. She attended the class presentation and explained to the students the value of D.A.R.E. and how it helped her life. She has never used drugs, is healthy and is leading a successful career path in the health field.
"That circle was completed for me that day," Cusson said. "It was so nice to have her come in, unscripted and send a meaningful message."
He hopes the Yes 2 Know convention gives the same message to students surrounded by the mixed messages portrayed online.
"I want to help young people make good choices and be empowered to reach their full potential," he said.
Parents and students can find out more at the facebook page https://www.facebook.com/yes2know/?fref=ts.