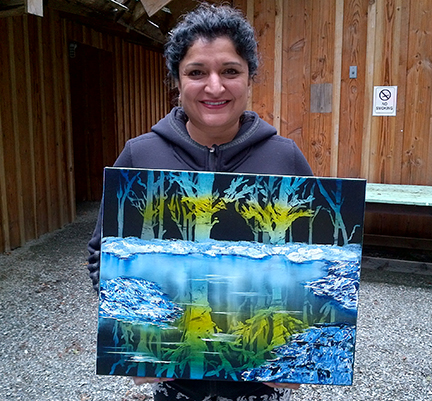 Many people in the process of buying a home will know Rabinder Dhillon thanks to her expert help, but the mortgage broker also has a hidden talent. To break up her time spent in the office, Rabinder recently delved into her newfound creative side and is enjoying the journey.
Born and raised in Port Alberni, Rabinder left for Simon Fraser University after graduating from ADSS. There she acquired her Bachelor of Arts, as well as a degree in Political Science and Business.
"At the time I didn't know what I wanted to do, and maybe it was naïve of me at the time, but my intent was to go into law," Rabinder said.
Instead, she returned to school to study marketing at BCIT and worked in the field in Vancouver until returning home in 2008. That was the year she launched her self-employment career and has not looked back.
"I enjoy the lifestyle here and the quality of life is amazing," she said. "I wanted to find a career that was a suitable mix of my skills and this was it."
Rabinder said she enjoys helping people and seeing them move into their new dream home. In February, she moved into a bright new office at the Chamber of Commerce Visitor Center where she has a view of Mt. Arrowsmith.
"It is a beautiful space and the staff are wonderful," she said.
Rabinder considers her strong points to come from the logical and numbers side of her brain, so when a friend asked her to sign up for a painting class about two years ago, she was stepping into a new realm. It was her first foray into the oil-based painting technique of wet-on-wet, step-by-step with instructor John Blackmore of www.wow-sbs.com. He has been bring the course to McLean Mill for several years and it is an opportunity for anyone to unleash the hidden painter within. That is what it did for Rabinder. She can now look back on her first pieces and recognize her improvements.
"This is something I never thought I would be capable of," she said. "I was super impressed with my first painting. I kept looking at it and was amazed that I created it."
Rabinder kept attending the class once a month, learning new techniques and how to create different textures. She was encouraged by the reactions of her friends and started giving her artwork as gifts and on cards at Christmas. From there, she bought her own easel, paints, and brushes so she can do more at home. Now she notices the increase in her confidence to try new things and make her own decisions.
"It is relaxing and it lets me use a different part of my brain," Rabinder said. "I really want other people to come to these classes and be able to feel the same enjoyment."
Rabinder hasn't stopped there. Her latest creative pursuit is pottery and is taking a wheeling throwing class through Parks and Recreation. The popular program with Yolande Fournier had a waitlist at the beginning of the year, but she got in last month and has attended the first two classes.
"I had always seen Yolande's work at craft fairs and wanted to try," Rabinder said. "It is amazing that you can mold clay into something so beautiful and functional."
At her first class, Rabinder admits she created "four big blobs", but by week two, dishes were already in the works. Like painting, the students will learn each step until the final glaze process. By the end of the course, students will have a potluck using the pieces they have created.
"I understand everything takes time, but I like to try something to see if I like it," Rabinder said. I want to keep trying new things as they come up to explore my hidden talents."