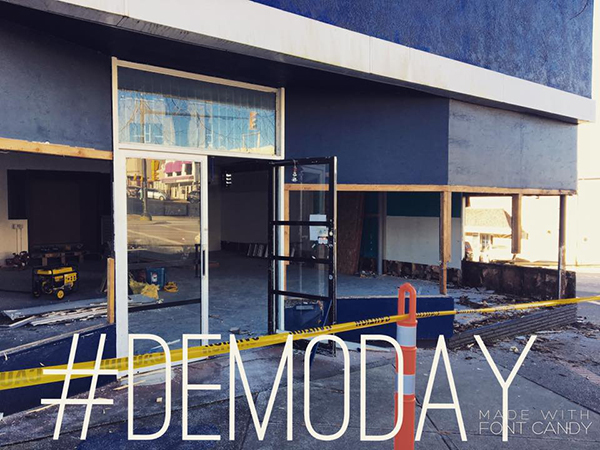 Credit: Haven Living photo
Haven Living is about to experience new changes for the New Year. The former retail location on the corner of Third Avenue and Argyle Street is getting a makeover, complete with environmentally-friendly renovations, and will soon be home to the eclectic store.
Currently located on Adelaide Street, owner Desja Walker decided last July to make the move. She had been talking to Cloud City owner, Dustin Dame, who encouraged her to join other merchants on the block when they both got word of the building's imminent vacancy. For Desja, it was all about timing.
"I was driving to work down a road I don't usually use and saw that the store was closing," Desja said. "I talked to people and met with my business advisor. It is the best thing that could be happening."
Haven Living's original location has outgrown what the store offers and Desja intends to continue the store's expansion. Her locally-crafted and all-natural skin care products are manufactured in-house, and with more retailers picking up her line, she will now have a more efficient workspace. The renovations also align with her values of living a sustainable lifestyle.
When she first viewed the building, Desja knew there would be work to be done, but it went from a fixer-upper to a huge undertaking after gutting the interior. It will be energy-efficient with all LED lighting and top-of-the-line insulation. Her manufacturing section is being built from the ground up, and rather than a gofundme campaign, Desja calls her search for salvaged goods a gojunkme mission. She is looking for reclaimed items that the community no longer needs, including a stackable washer/dryer, a dishwasher, a fridge, cabinetry, furniture and old wood for shelving.
"I want to go as authentic as possible by using salvaged material," she said.
Her inside workshop will be available for various classes and for artisans looking for a fully-equipped space to teach.
The plans for the exterior of Haven Living are expected to add to the dynamics of the improving uptown district.
"It is going from stucco to Hardy Plank with wood features," Desja said.
My brand is also getting a makeover and I will be shifting to more organic and vegan products. She said it is all about the all-around holistic approach to her passion: the connection between healthy food and natural self-care.
"I believe in healing yourself from the inside out," she said.
So far, Desja supplies her line to 28 retailers across Canada and the US, but that is not all that fills the shelves of the store. Local and province-wide professional artisans provide baby clothing, gift items, jewelery, stationary and paint.
Desja said she is looking forward to following her dreams and is grateful for all the support the community has given her to see them come to fruition. She also hopes to do the same for someone in her shoes as she turns over her cozy space to a new tenant.
"Someone can come into a space that is completely done, where people know a business is located, and it will completely relieve the overhead pressure," she said. "I want to provide support the same way I have been supported."