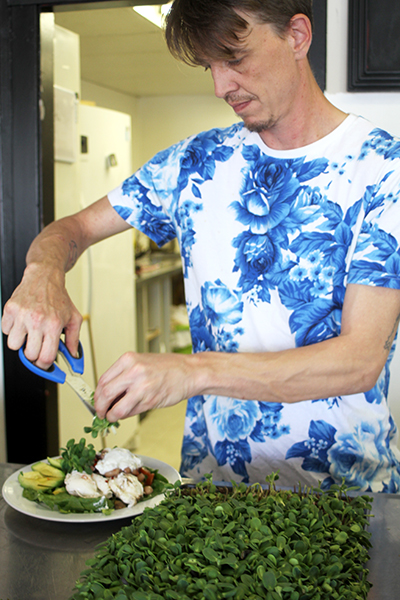 Richard Michalenko returned to Port Alberni to share his passion for locally-grown food and recently opened Teaz Me Teas.
Two years ago Richard Michalenko would not have believed he would be where he is today. After working for others most of his life and overcoming challenges, the entrepreneur has just opened his own business and is on the right path to maintaining a healthy lifestyle. The two successes go hand-in-hand because Richard's new tea house and café brings together his passion for local food and drinks, and he can safely say he is living the dream.
Born and raised in Port Alberni, Richard left town to pursue opportunities in Vancouver. Initially involved in the music and bar scene, he was introduced to the culinary world at the Commodore Ballroom. From there he acquired his second level wine sommelier certification and worked in the food and wine industry. He was always encouraged by others to attend culinary school, but he followed his heart instead.
"I was told I should be a chef, but I didn't want to," Richard said. "Working in a kitchen under those elements was not an interest. My interest is in creating food with ingredients around me. I believe the simpler you are using local food, the better it is."
His interest stemmed from not only being around fresh ingredients and realizing how much Port Alberni has to offer, but also from beating alcoholism.
"I was in bad shape and abusing alcohol," Richard said. "But after quitting and finding tea, health food and exercise, I have never felt better."
It is significant then, that near his two-year sobriety anniversary this month, he opened Teaz Me Teas on Margaret Street. His goal is to bring local, homemade, fresh food to his customers. By doing so, he wants to contribute to creating a full circle of community development.
"When I returned to Port Alberni, I didn't realize how many farms we had," he said. "I am finding amazing products here."
It was not an easy road to his opening day. Richard sold everything he had, worked with a silent partner and with the help of his Metis heritage, hopes to acquire funding to hire youth.
"I want to take them under my wing, find out what they are good at and maybe one day they can have their own businesses too," he said. "I want to give them opportunities that I didn't have. I want to be able to show them that they can take this bit of lettuce grown locally, put a bit of ingredients with it and turn it into something amazing."
Richard's background also inspired him to study aboriginal ancient traditions and edible plants. That is why he makes his own loose teas using arbutus, salal, huckleberries, salmon berries and a list of others found in nature. His cafe also specializes in cold-pressed juice, all-day to evening brunch with waffles and cheese platters and decadent homemade desserts, made by his mother, Jennie.
"She uses the real thing. Real butter, cream and sugar," Richard said. "Dessert is meant to be enjoyed as a treat once in awhile."
Richard also noticed a need for vegetarian, vegan and gluten-free options.
"One the first Sunday of opening, I was able to sit back and really learn and see what people wanted and there were about 20 people asking for vegetarian options," he said.
Since that soft opening, Richard has not had a chance to let his new reality soak in.
"I have been waiting to realize that my dream has come true, but I have been so busy," he said. "I want to focus on giving Port Alberni what I make. I have always wanted to do this since I was a kid."
To give it a try, stop by Teaz Me Teas at 4662 Margaret Street and check out the Facebook page for more information.