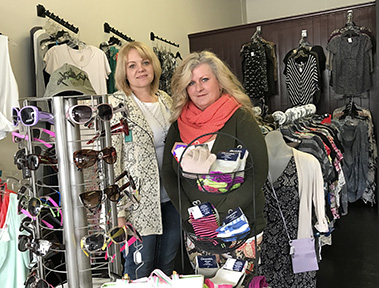 Carol Anne and Sharon invite everyone to check out their new consignment store, Forever New
Friends, and now business partners, Carol Anne Phillips and Sharon Smith, joined together recently to follow their dreams. Yesterday their hard work came together when they opened a new ladies wear consignment store on Argyle Street. It is their hope to offer quality items in a boutique atmosphere.
When Carol Anne was growing up, her mother had a consignment store called Jan's Top Line. The service and retail industry, as well as entrepreneurship runs in the blood, because right after graduating from ADSS, Carol Anne started in the hairdressing business. Between working for others, having her own brick-and-mortar shop, and establishing her own in-home salon, it is still something she does today.
"I always wanted to open a consignment shop," she said. "I had kids, but they are grown now, so the timing was right."
She said she wanted to find someone with whom she could have a good working fit and found that with Sharon.
Sharon was raised in Parkville, where, in her youth, she attended Ballenas Secondary.
"I started hairdressing because I think I was a little bored, but decided I needed something more," she remembers.
Since then, she has worked in retail and currently is employed at the Blue Marlin. She has also become an entrepreneur selling cosmetics. When Sharon and her family came to Port Alberni 18 years ago, she helped run her husband's fishing company.
When the two decided to open a second-hand clothing store, one of the first things they did was secure a location. It happens to be next to Carol Anne's former hair salon, so she feels right at home.
"I have always liked this strip," she said. "With the two windows out front it looks like a vintage uptown street store. That is how I want to see this area. I feel like downtown needs new stores and it is a great little area."
To revitalize the interior, the two, along with their husbands, spent many long nights on renovations and painting.
They set out their products, which include not only clothing of all sizes and styles, but accessories like purses, jewelry, and shoes. They also carry additional items like bath bombs and decorative signs.
Their intent is to offer high quality fashions at reasonable prices.
"The prices will reflect the quality and brand and we want to be fair to the consigners," Sharon said. "When I go thrift shopping, that's what I look at and I want to reflect those same things here."
"We are not just a thrift store," Carol Anne said. "We want to present an atmosphere of going into a boutique with our personalized service."
They hope the store attracts like-minded individuals who want to shop, as well as recycle their own clothing.
"There are a lot of cute shops around here," Sharon said. "The area is coming along gradually."
The store is always accepting consignment in excellent used condition. Stop by to check it out at 4969 Argyle, right next to alberni.ca. For more information, see Forever New on Facebook.