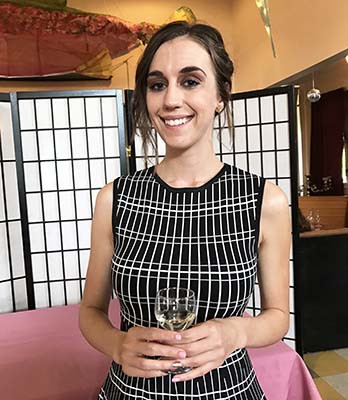 Rachelle Collette was hosting her Wine Club at Char's Landing on Monday evening.
A newcomer to Port Alberni arrived ready to share her passion for wine with the community. Not only that, Rachelle Collette recently launched her own business to provide event planning and services.
Rachelle, daughter of Jennifer and Bill Collette, executive director of the Alberni Valley Chamber of Commerce, was raised in Parksville with two siblings. As the middle child, she was never shy and early on developed a love of acting. Rachelle was drawn to the stage and performing in front of an audience and was a part of both her community and school theatres. After graduating from Ballenas Secondary School, she moved to Vancouver to pursue acting. After realizing that was not a career that would make ends meet except for the lucky few, she furthered her education in Public Relations.
"Work in acting is inconsistent, so I needed to find something I liked to do and wanted to put my skills to use working with people," she said. "Public Relations was a good fit."
Rachelle continued to take acting gigs and supplemented her time and income with hospitality jobs, mainly in restaurant management.
While in her last position in Vancouver, she found herself in a position of little opportunity for growth and started to look for something new. That is when she was called to Port Alberni. Not only had her parents relocated to the Valley, a management position was posted for Sproat Lake Landing. Rachelle got the job and was on her way. Although she had visited town a few times, she said it was still a bit of a culture shock. The biggest surprise came when she looked out her window.
"I was surprised at how dark it was," she said. "I was working at Salmon House on the Hill and it is wall to wall windows so when you look out all you see is the city lights. Almost as soon as the sun goes down here it is pitch black."
It wasn't long before Rachelle decided to start her own business. She has always had a love of wine, and backed with her PR skills, she took some Wine & Spirit Education Trust courses and launched Pressed Event Services. Only up and running for the past six weeks, Rachelle has already been contracted for some wine pouring events and will be providing her pairing services at tomorrow evening's Chamber of Commerce dinner meeting.
"Pairing is fun," she said. "You can do balancing, which is the easiest and I recommend starting out with that. You decide what flavouring your wine is, whether it is fruity, floral, or leathery and take those to incorporate into food. Contrasting is used, for example, if you have a rich, creamy pasta, you would use an acidic wine to cut through and give your pallet a bit of a break."
The first project Rachelle introduced to the community was a wine club as a networking opportunity for professionals of the Valley.
"It is a great place to get together to connect at the end of the work day," Rachelle said. "I show some wines that people might not be familiar with that are available here but they might just pass by on the shelves."
So far the group has met for three weeks in June and will have one more on June 26. If there is continued interest, Rachelle intends to extend the club through July. Ultimately her goal is to work with local businesses to help make their events successful.
She said her passion comes from the past.
"I love the history of wine and the stories that are behind it," she said. "People have dedicated their lives to their vineyards and have passed that down to their children. It is really quite romantic."
Check out more of what Rachelle is doing at Pressed Event Services on Facebook.